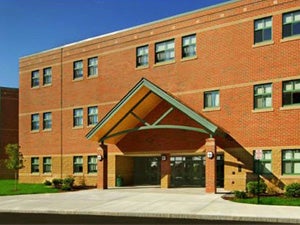 Overview
Established in 2007, Bedford High School in New Hampshire enrolls approximately 1,500 students in grades nine through 12 and employs 150 faculty members. Bedford High is the state's first authorized public International Baccalaureate (IB) World School and was named a New Hampshire School of Excellence in 2013.
To support its college-prep, honors and IB programs of study, Bedford High School relies on a number of EBSCO databases provided through the New Hampshire State Library. In March 2015, the school library implemented Explora™, EBSCO's new interface designed specifically for students and educators. Since then, students are more quickly finding reliable, relevant resources to help them complete their research and class assignments. In addition, Explora has become an effective tool for teaching digital literacy and preparing students for research success in college.
Explora has a nice, slick interface that's intuitive and simple to use.
Challenges
When Librarian Jessica Gilcreast came to Bedford High School in the fall of 2013, she examined library usage and realized that the school was not getting the most out of its electronic resources. Her first action was to redesign the library website so that all of the databases were accessible right from the digital resources home page. This move, coupled with increased direct instruction on accessing the library's resources, helped to drive students away from Google and to the school's EBSCO resources.
However, navigating the databases proved challenging for students. With more than a dozen EBSCO databases to choose from — including MAS Ultra: School Edition, Academic Search Premier and MasterFILE Premier — students often did not know which ones would have the information they needed. In addition, many students were overwhelmed by the number of facets for limiting and expanding search results in the traditional EBSCOhost interface.
"It was intimidating for students, especially underclassmen," Gilcreast explains. "They felt like it was beyond their capabilities."
When EBSCO released Explora, a streamlined, more graphical interface for schools and public libraries, Gilcreast was eager to roll it out.
Solutions
Launched in early 2015, Explora serves as a research interface for all of a school's EBSCO databases. Districts or consortia can decide which databases to make searchable and create multiple profiles to serve the needs of different user groups — elementary schools, middle schools or high schools. At Bedford High, Gilcreast chose to place the Explora web button front and center on the library's digital resources web page. Students who click on the button are brought directly into the interface.
"Now they can search all EBSCO databases at once," Gilcreast says. "The ability to search by category makes it easier for students who are at the beginning stages of a research project and have no idea what to do."
Given its user-friendly design, Explora is gaining traction among all students, but particularly those in grades nine and 10. According to Gilcreast, upperclassmen and students enrolled in the IB Diploma Program remain heavy users of the EBSCOhost interface, which shares a lot of the same features and functions as Explora, but many are finding the more visual Explora interface appealing.
Of critical value, Gilcreast said, are the source type and publication date limiters which help students to quickly locate primary source documents.
"From freshman through senior year, we place a heavy emphasis on students' using primary sources," Gilcreast explains. "EBSCO removes the challenge of finding credible and reliable primary sources by allowing students to filter their results by source type and by publication date. It's a huge relief for students."
As students find relevant search results, they can organize the records in personal folders. This option is especially helpful to the IB students who, in order to graduate, must complete a self-directed research project that culminates with a 4,000-word essay. Research for the extended essay is conducted throughout the junior and senior years.
The citation feature is also helpful to students. Gilcreast configured Explora so that students can export source citations directly to EasyBib, a third-party Web platform that helps them organize their research. Teaching students to properly cite their sources and providing them the tools to make the process easy has led to meaningful conversations about academic honesty and avoiding plagiarism.
Explora also includes features to assist students who struggle with reading. For example, the Lexile® limiter aids teachers in finding grade-appropriate reading materials, while Text-to-Speech enables students to hear HTML Full Text articles read aloud to them. Gilcreast said the latter benefits both visually impaired students and auditory learners.
"I even say to kids, 'If you need this information for a class, and you want to lay on your bed with your laptop, you can just have it read to you,'" she says. "I get a lot of 'oohs' and 'ahs'."
For students who prefer to use the search box, the Autocomplete feature offers suggested terms to complete a search query based on the most popular searches. Gilcreast says this feature helps with spelling and points students to related searches. Recently, she was helping a student who wanted to do a paper about the connection between neuroscience and dreams. Initially, his search returned a lot of results about the American Dream. Gilcreast encouraged him to select one of the other search queries from the Autocomplete list to find more targeted results. It worked.
"I always talk to students about casting a wide net," Gilcreast says, "but it's called research for a reason. You have to do it multiple times to find what you're looking for."
To promote Explora to students during literacy instruction classes, Gilcreast invented a "Research Domination" contest in which she challenges a student to a research "duel." The classroom teacher selects a random topic. Neither Gilcreast, who uses Explora, nor the student, who uses Google, knows the topic ahead of time. The two then race to find a credible source. Whoever produces a result with citation first "wins" a WWF-style championship belt.
"I win every time," Gilcreast laughs. "They don't think I'm going to, so it's perfect! It's something to make it fun and silly, but it introduces the conversation about using a database to find a credible, reliable and scholarly resource quickly and efficiently versus going to Google. I find a lot of times teenagers need that real-life example."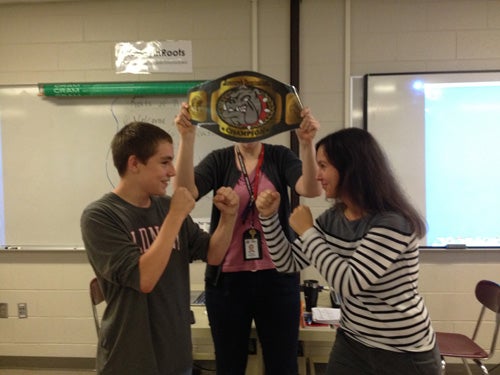 Benefits & Results
Since Gilcreast's arrival at Bedford High School, use of the library's EBSCO databases has skyrocketed. In March 2015, students and educators conducted more than 30,000 searches across all of the school's EBSCO databases via the EBSCOhost and Explora interfaces. This represents a more than 400-percent increase over the number of searches conducted in March 2014, and a nearly 500-percent increase over the number of searches conducted in March 2013. Full-text downloads have also increased.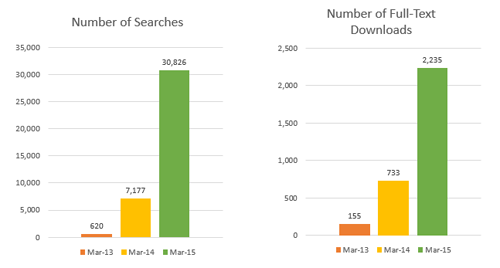 The spike in usage numbers can be attributed to Gilcreast's more active promotion of the library's e-resources during literacy instruction. Since Explora is becoming the first place underclassmen go to when they want to search EBSCO content, she expects those usage numbers to increase over time as well.
In addition, she says, exposure to both Explora and EBSCOhost are ultimately preparing students for college, where the ability to search in library databases — such as Academic Search Premier — is a prerequisite for research success.
"Once they are in college, they [will] realize how ahead of the game and how prepared they are because they've been using EBSCO all along," Gilcreast says. "I tell them all the time, 'You can become savvy users of this now, so when you go to college and have access to even more EBSCO databases, it's not going to be a difficult transition for you.'"