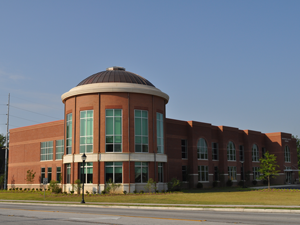 Overview
Greenwood County Library System in South Carolina, which includes three branches and a travelling bookmobile, aims to help its nearly 70,000 citizens be more connected, informed and entertained through free access to library resources, programs and services. In response to patron demand for more digital content, the library system purchased a digital magazine platform so users could read their favorite magazines on a computer or mobile device.
In January 2016, after a year of low circulation and user frustration with its first digital magazine service, Greenwood County Library made the switch to EBSCO's Flipster product. Within the first few weeks of launching and promoting Flipster, the library saw a dramatic increase in both digital magazine circulation and patronage, registering more than 400 new library card holders in the month of May alone.
Flipster has helped us move outside our walls [...] It has really boosted the circulation for our digital library.
Greenwood County Library System
Challenges
The popularity of digital resources such as e-books, audiobooks, and a new language-learning resource prompted Greenwood County Library to purchase a digital magazine platform for its patrons in early 2015. However, after one year the library saw only 77 circulations of 32 titles, an outcome that Library Director Prudence Taylor deemed "awful."
"It was very difficult to use," Taylor said of the previous vendor platform. "I got a lot of complaints from our patrons about it. Even our staff had trouble with it."
When Taylor attended the South Carolina Library Association conference in October 2015, she saw a demonstration of Flipster at the EBSCO booth.
"It looked very easy to use, very intuitive," she said, adding that she also talked to a number of other library directors in the state who were using Flipster in their libraries. "Their patrons really liked it, so we decided to try it."
Solutions
Greenwood County Library began subscribing to Flipster in January 2016. Taylor said she was pleased by the wide range of magazines available. She started off with 28 magazines including Rolling Stone, Vogue, Cosmopolitan, Car & Driver, O Magazine, People and Southern Living.
"Southern Living is an extremely popular magazine here at the library," said Taylor. "We were not able to get that magazine through our previous vendor, but we were able to get it through Flipster."
In addition, the library subscribes to a number of children's magazines through Flipster, including Ranger Rick and Cricket Media titles such as Babybug, a board book for babies and toddlers. Taylor said she had to cancel her print subscription because it was expensive, and the books kept coming back with "little bite marks on them" from teething babies.
"I hated to do that because we have a strong children's program here, but we just couldn't afford to circulate one issue only three or four times a month," Taylor explained. "I was glad to be able to pick Babybug back up [through Flipster]. I've had a couple of parents and grandparents of young children tell me that they enjoy looking at it with the children on their tablets or their e-readers."
Accessing Flipster is easy; all a patron needs is a library card and an internet connection. A carousel of featured magazines scrolls across the bottom of the library home page and on the Digital Library resources page. Clicking a magazine cover image prompts users to log in, and then takes them right to the digital magazine of their choice.
To further promote Flipster, Taylor distributed flyers, made announcements in the library's computer classes, and advertised in the local newspaper and on local radio.
"We have a contract with one of the radio stations here in town, and we got them to advertise it for us," she said.
Benefits & Results
Since launching Flipster in January 2016, the library has seen a marked increase in magazine circulation. In the first six months, Flipster logged more than 1,300 online views.
"I was so thrilled when I saw that, and it has really boosted the circulation for our digital library," Taylor said. "We've gotten a lot of positive responses."
In addition, library patronage is on the rise. Taylor has observed patrons sitting on the library steps or at picnic tables across the street, using the library's wi-fi connection. In May alone, more than 400 new people signed up for library cards so they could access Flipster.
"Flipster has helped us move outside our walls," Taylor said. "People don't have to worry about getting here during our regular hours to read their favorite magazines."
The ability to access magazines digitally has also been beneficial to elderly patrons, many of whom aren't as mobile as they once were. One elderly patron, Taylor said, used to depend on her daughter to pick up items at the library for her because she was not physically able to do it herself.
"A couple of years ago, she started using our digital library, which she loved because that way she could get her own books," Taylor said. "Now she loves it because she can get her own magazines."
Another woman who has had some health issues called the library to say that she was glad she could read Cosmopolitan and Vogue online.
"She hadn't been able to work, and she and her husband were just getting by financially," Taylor explained. "She said it was nice to have access to her favorite magazines and not have to pay for them."
In the coming year, Taylor plans to add more magazines to her Flipster subscription.  She said she would like to include a few niche titles to serve the area's wrestling enthusiasts and those interested in hobbies such as quilting and genealogy.
"I'm very happy with the Flipster service," Taylor said. "It's worked out really well for Greenwood."