Overview
The Josephine Community Library District is composed of four branches serving the more than 82,000 residents of Josephine County in Southern Oregon. The Grants Pass, Illinois Valley, Wolf Creek and Williams branches each offer a variety of print and electronic resources to meet the information needs of their patrons. These resources include LearningExpress® Library, an e-learning solution from EBSCO LearningExpress that is designed to help library patrons at the fourth-grade learning level and above achieve their educational, personal and career-related goals. LearningExpress Library, with Job & Career Accelerator and Computer Skills add-on modules, is available to all libraries through the State Library of Oregon.
Challenges
The Josephine Community Library District serves one of the most impoverished areas in Oregon. United States Census Bureau data puts the poverty rate for Josephine County at 17.8 percent. This is significantly higher than the state average of 13.2 percent and the national average of 12.3 percent.
"The logging industry hasn't been replaced by another," explained Library Director Kate Lasky. "There is some emerging focus on technology, but we are primarily a rural community [and] small towns are driven by small businesses."
The library district has seen its own struggles. In May 2007, all branches in Josephine County were closed due to lack of funding. However, a committee of dedicated citizens formed a nonprofit organization called the Josephine Community Libraries, Inc. By December 2009, all branches had reopened thanks to generous donations and volunteer support. In May 2017, 53 percent of voters in Josephine County passed a ballot measure to permanently fund the libraries, and the new Josephine Community Library District was born.
During those 10 difficult years, and continuing today, the library's access to EBSCO LearningExpress resources has proven critical in helping members of the community improve their skills and find work.
Solutions
LearningExpress Library is made available to Oregon libraries through the State Library's Statewide Database Licensing Program. This program is supported in whole by the Institute of Museum and Library Services (IMLS) through the Library Services and Technology Act (LSTA).
According to Arlene Weible, Electronic Services Consultant at the State Library of Oregon, the quality of LearningExpress' test preparation and career resources, as well as the computer skills tutorials, were large factors in the organization's decision to purchase the suite of tools for Oregon's libraries. She also praised the overall breadth of subject coverage.
"Another reason we continue to favor products from EBSCO LearningExpress is that they meet the resource needs in all types of libraries we serve — school, public, academic and tribal," Weible said. "In other words, LearningExpress has something for everyone."
LearningExpress Library includes targeted learning centers with practice tests, articles, e-books and tutorials designed to help patrons improve their academic skills, study for high school equivalency and college entrance exams, prepare for career certification, prepare for military tests and more. The platform's SAT® and ACT® test prep alone saves parents money and is especially beneficial to those who can't afford to enroll their high schoolers in standardized test prep classes, Lasky said. To help patrons brush up on technology, Computer Skills includes video tutorials on the basics of computers, web searching and popular software applications.
Meanwhile, Job & Career Accelerator offers a complete collection of job search, career, college and scholarship exploration tools that perfectly complement Oregon's WorkSource employment service, which has a location in Grants Pass. People looking for help with writing resumes and conducting job searches, but can't make it to WorkSource during open hours, can access the library's resources in the evening and from home.
Roberta Lee, manager of the Illinois Valley branch in Cave Junction, said the resume builder in Job & Career Accelerator is one of the most popular tools among job seekers.
"I've had a number of really good results with it," Lee said. "It takes away the stress of having to build and format a resume. Patrons can just sit down, fill in the blanks and print out a very professional-looking resume."
Not long ago, a patron of the Illinois Valley branch used the resume builder tool in Job & Career Accelerator to write his resume. The patron returned to the library later in the week to happily report that he had been offered a job and accepted. Lasky said it's one of her favorite stories.
"This was a huge, huge win for this person," Lasky said. "In the tiny little town of Cave Junction, with very few job opportunities, that's a big deal."
Lasky shared the story of another patron who visited the Grants Pass branch seeking books about becoming a realtor. She was uncertain whether she wanted to invest $1,200 in pursuing a real estate license. She was also concerned about her math skills. Once she learned about the resources in LearningExpress Library that could help her improve her math skills and study for the real estate exam, she felt more optimistic and prepared to make an informed decision about her education and career.
Relationships like the ones formed between patrons and librarians are important to the learning process, Lasky says. By conducting reference interviews, librarians can better understand patrons' questions, direct them to the right answers, and help them build confidence using digital information resources. That confidence then translates to other areas of their lives.
"I think that is why we get a lot of the stories that come back," Lasky said. "When someone finds a job, they want to tell us about it."
Quote
That EBSCO and LearningExpress stay at the cutting edge of what they're able to offer us, and ultimately our customers, is extremely important.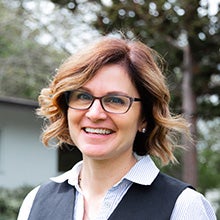 — Kate Lasky, Library Director
Josephine Community Library District
Promotion
These are just two of the stories Lasky collects from branch managers each month to share with the Library Board of Directors. "It helps the Board feel more connected to the day-to-day activities of the library," she said.
To promote LearningExpress, the library also regularly highlights the resources in its monthly digital newsletter. For example, Lasky promotes LearningExpress Library's High School Equivalency Center in the newsletter's "Teen Corner" as a great tool for GED® test prep.
In addition to posting to its own Facebook page, the library sets aside advertising dollars for paid social media. The cost per ad ranges from $25 to $100 and can reach up to 10,000 users, depending on the size of the target audience and how long it runs.
"We want people who wouldn't normally see our page, who might be interested in it, to learn about the resources that the library has," Lasky said.
Benefits & Results
The flexibility offered by digital resources such as EBSCO LearningExpress ultimately helps libraries improve the patron experience and fulfill a core mission: connecting people — whether they are in the library, at home, or on the go — with reliable information at no charge. It's also helping to level the playing field for those still developing digital information literacy skills.
"In our community, where we face issues of poverty, we must have a component for digital inclusion because not everybody knows how to navigate online systems to get quality information," Lasky said. "That EBSCO and LearningExpress stay at the cutting edge of what they're able to offer us, and ultimately our customers, is extremely important."