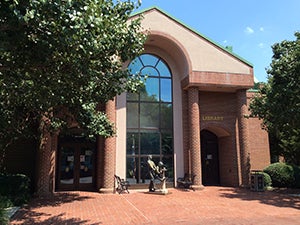 Overview
Beaufort County Library system consists of five branches and a traveling bookmobile that serves approximately 183,000 citizens on the coast of South Carolina. The population is unique because it includes several military bases such as the Marine Corps Air Station, the Parris Island Recruit Depot (USMC) and the Naval Hospital. The USMC offers two military libraries that are located on-base. Although the USMC libraries do serve as the main libraries for military personnel and their families, many military families live out in town and use the Beaufort County Library system as well. Beaufort County is also a popular tourist destination; during the summer months, the population can grow to 250,000, resulting in the need to serve a wider range of patron needs.
To keep up with the demand for electronic content, the library system wanted a digital magazine platform that was cost effective, easy to use and offered a wide variety of content. Flipster®stood out from competitors such as Zinio because it offered popular magazines that patrons were already reading in print, the pricing was easy to understand, and the platform was backed by EBSCO, a vendor with which the Beaufort County Library was already familiar as a subscriber of NoveList® and LibraryAware™.
Our patrons are telling their friends and families at dinner parties and events that they can access great magazines for free at our libraries. It's so convenient that people can download any magazine on the go and save money.
Information Services Coordinator
Challenges
Due to the shift toward online services, leaders at Beaufort County Library wanted to broaden their offerings by including a digital alternative to print magazines and periodicals. This presented an interesting reaction from patrons according to Information Services Coordinator Traci Cox, who recognized the importance of offering both digital and print options.
"I think the primary concern from both patrons and staff were that we were going to get rid of the paper versions," she explained. "That was not our intent at all. We wanted to offer a supplement to the paper, because some people still prefer the paper option."
As Cox and her colleagues researched digital magazine solutions, it was clear that Flipster offered everything they were looking for in a digital magazine platform, most notably the wide selection of popular magazines that patrons were often checking out in print.
Solutions
The library system began subscribing to Flipster in February of 2018. Cox explained that Flipster's wide selection of magazines and easy-to-use app were a winning combination.
"Just the fact that the app looked so easy to use and was available on Android and iOS, we knew everyone could access it," she explained.
Accessing Flipster is easy; all a library patron needs is a library card and an Internet connection. It's also easy to download the Flipster app for Apple® and Android™ phones and tablets, and then browse and download the magazines their library offers directly from the app — from any location.
The Beaufort County Library system currently subscribes to 20 titles including must-have magazines such as People and National Geographic and popular cooking magazines such as Cooking Light and Food Network Magazine. To meet regional interests, the library subscribes to magazines such as Coastal Living and Southern Living.
To promote Flipster to current and potential users, the library system takes advantage of free brochures and marketing materials provided with their Flipster subscription. Librarians also find success marketing Flipster via social media, specifically Facebook, and through email marketing via MailChimp.
Cox explained that they will continue to get the word out and plan to implement a targeted marketing approach where they offer direct links to specific magazines such as TIME, one of the library's most popular titles.
Benefits & Results
Since launching Flipster, the library has seen a significant increase in digital magazine circulation, and the word is quickly spreading throughout the community about the new service.
"Our patrons are telling their friends and families at dinner parties and events that they can access great magazines for free at our libraries," Cox explained. "It's so convenient that people can download any magazine on the go and save money."
The introduction of Flipster has also given the library an opportunity to better understand and serve the needs of the community while having some fun in the process.
"It is a fun product to market," she said. "I think sometimes it's a challenge for libraries to reach all patrons, but I do feel that [the appeal of] this resource is one that spans the ages."