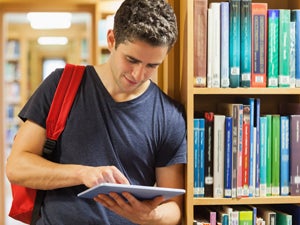 Overview
Located northwest of Chicago, Township High School District 211 is the largest high school district in Illinois, serving more than 12,000 students and employing nearly 1,000 faculty members. In 2014, the district launched a 1:1 technology initiative to provide every student, teacher, librarian, teaching assistant, and administrator with a personal iPad for use in school and at home.
To give teachers more opportunities to integrate technology with classroom instruction, three of the district's five high schools have begun subscribing to Flipster®, EBSCO's next-generation digital magazine solution that allows users to read magazines on computers or mobile devices.
Schaumburg High School Library became the first in the district to launch Flipster and currently subscribes to 20 magazine titles, including Consumer Reports, Newsweek, Us Weekly, and People en Español. As a result, teachers are more frequently using magazine articles in their class lessons, students are engaging more often in leisure reading, and the library is seeing a healthy return on its investment.
With Flipster, [...] I can have everyone in the school reading the same article at the same time. Or I can have everybody in the same class reading the same article at the same time. Not only was that attractive to me, but it was also attractive to a lot of my teachers.
Challenges
According to Media Center Chairman Sue Elk, Schaumburg High School had long-subscribed to print magazines. "Years ago, our leisure reading magazines got heavy, heavy use," she said. "But as we got more and more technology, they became less and less important to the point where I wasn't buying leisure magazines because they weren't being used."
When the district launched its 1:1 technology initiative in 2014, Elk looked to add more digital resources to the library's collection. Specifically, she was interested in subscription content that could be accessed by multiple students at the same time.
"It's all well and good to have an e-book with [access for] one user, but that isn't really any better than having a print book," Elk said. "Once it's checked out, it's gone and nobody else can use it."  She faced the same challenge with magazines.
In addition to expanding access, Elk wanted to provide teachers with the kinds of resources that would encourage them to use technology with their students.
"Because many of them are using iPads in a curricular way for the very first time, they are sort of casting about for new ideas as opposed to just having the same old assignments in a different form," she explained. Magazines include a variety of informational articles to support the shift toward nonfiction reading and analysis in the classroom.
Solutions
When Elk's EBSCO sales representative told her about Flipster, EBSCO's digital magazine solution that offers simultaneous user access, she was immediately intrigued.
"We have subscribed to EBSCO's databases for years and years," she said. "It has always been very robust, and we've never had any problems. Because I'm familiar with the company, and the kids are familiar with the interface, I felt pretty confident I was going to get a decent product."
Evaluation of Flipster began in earnest during the summer of 2014. One of Elk's colleagues briefly compared Flipster to its main competitor, Zinio, but the license agreement states that users must be at least 17 years old to download the Zinio app. "Our students, at youngest, are 14, so there was no way we were going to be able to use Zinio," Elk said.
Elk cited Flipster's intuitive interface as a key factor in the school's decision to purchase the tool. "I really like the interface; it's really easy to use," she said, adding that the Flipster app is a snap to download. Furthermore, any student or faculty member who accesses the library website with a username and password can go straight through to Flipster without having to re-authenticate. "We have so many user names and passwords for so many different things," Elk said. "This makes it so much easier."
Schaumburg High School currently subscribes to 20 magazine titles through Flipster. Although digital magazine subscriptions cost a bit more than print subscriptions, it is ultimately more cost-effective for the school long-term. In fact, Flipster is more affordable than its competitors. Libraries that purchase the product incur no platform fees and only a five percent subscription service fee. For example, a library can subscribe to $1,000 in digital magazines through Flipster, and pay only an additional $50 a year for a total of $1,050.
"There's a big difference between buying a magazine subscription that one child can use at a time and buying a magazine subscription that 1,500 to 2,000 kids can use at the same time," Elk said. "With Flipster, depending on the [publisher's] subscription license, I can have everyone in the school reading the same article at the same time. Or I can have everybody in the same class reading the same article at the same time. Not only was that attractive to me, but it was also attractive to a lot of my teachers."
In addition, subscription terms are flexible. A library can add magazines at any time during its initial subscription period, and they will also expire on the original expiration date set at the time of purchase.
Benefits & Results
Teachers at Schaumburg High School have been integrating Flipster's digital magazine content in the classroom in several ways.  According to Elk, Consumer Reports is frequently used in business classes, while Newsweek has heavy readership in social studies classes. In addition, one of the school's Spanish teachers now incorporates People en Espanol into her lessons. For students looking for casual reading material, Us Weekly has become quite popular.
Meanwhile, access to technology and digital resources like Flipster are enabling teachers to more easily communicate with students, even on snow days. In the event school is cancelled, teachers can assign students an article to read in Flipster and ask that they be prepared to discuss it when class resumes.
"We've had more snow days this year than we have ever had before," Elk said. "The kids are not so happy about the fact they're getting homework assignments on their day off, but it's proving that education doesn't have to stop just because school is not in session."
So far, Elk said, usage statistics suggest that Schaumburg High School is getting a good return on its Flipster investment.
"Magazines are getting much more use with Flipster than they ever did before," said Elk, who intends to subscribe to more titles if her budget is approved. "When I look at the monthly statistics, I'm very happy."
For more information about Flipster, or to request a free trial, visit http://flipster.ebsco.com/.