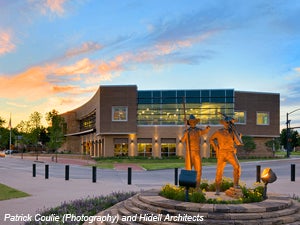 Overview
Irving Public Library in Texas, which includes four locations around the city and a historical archives collection, serves a population of nearly 229,000. In addition to traditional services, Irving libraries offer free WiFi and public computers, study and meeting room spaces, and free programs for all ages.
Approximately three years ago, Irving Public Library began exploring a variety of digital services in response to patron demand for more downloadable content. After dissatisfaction with its previous vendor's service, library leaders began subscribing to Flipster, EBSCO's easy-to-use digital magazine newsstand. Since then, digital magazine usage has skyrocketed as patrons enjoy the wide selection of popular titles available to them.
The great thing about Flipster is that it's so easy to use.
Challenges
In addition to e-books and other digital resources, Irving Public Library purchased a digital magazine platform to provide its patrons with digital access to their favorite popular magazines. According to Library Director Chris Dobson, library staff received a full day of training on the new platform, but it proved too difficult to use and expensive to sustain.
The library actively promoted the service, but never saw more than 311 views in one month over a three-year span. Dobson knew the service wasn't working, and the platform had to be replaced.
"The product was so complicated," she said. "Patrons had to log in two or three times and set up separate user accounts."
Dobson explained that the library went out for multiple bids with different vendors and took advantage of a free trial of Flipster, EBSCO's digital newsstand for libraries.  
"The great thing about Flipster is that it is so easy to use," said Dobson.  Upon completion of a free trial, the staff determined that Flipster's ease of use was the winning factor.
Solutions
In July 2016, Irving Public Library replaced its first digital magazine platform with Flipster. Dobson explained that it was easy to incorporate Flipster into the library's current platform. "We didn't have to do anything," he said. "There was no training involved."
Irving's collection development team selected from a variety of popular magazines, many of which were not available from the previous vendor. Irving subscribed to approximately 40 Flipster magazines including Ok!, Prevention, Women's Health, Men's Health, InStyle, Food Network Magazine, Babybug and more.
 
Once the switch to Flipster was complete, Irving Public Library posted a notice on its homepage and sent an email out to library patrons letting them know that a new digital magazine service was available. The library also handed out flyers and promoted the new service on social media.
Benefits & Results
After subscribing to Flipster, Irving Public Library looked at its statistics and in just one month saw the number of views jump from seven views of the previous platform to more than 500 views of Flipster.
"That was just amazing," Dobson said. "It usually takes a while for things to ramp up, and it was instantaneous. It's just a very easy-to-use product."
Currently, patrons of all Irving Public Library branches can download their favorite magazines to their electronic devices for anytime reading. This enables the library to offer services outside of regular operating hours. Dobson comments, "I think most of the uses are from home."  
Patrons are pleased with the selection of Flipster magazines. When Dobson and her staff receive magazine suggestions, they can quickly add new titles and make them available to the public immediately.
Dobson went on to say that an 80-year-old member of her library board enjoys Flipster and declared to the library board, "I just love this!"