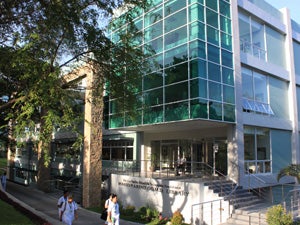 Overview
Located in the Philippines, De La Salle Health Sciences Institute (DLSHSI) is the premier educational institution for medical and allied health in the region. DLSHSI's Romeo P. Ariniego Medical Library Services (RPAMDLS) support the education and research needs of the Institute's seven academic programs, the De La Salle University Medical Center, and the Angelo King Medical Research Center. The Library's collection includes 25,000 print and multimedia resources as well as 12 online databases.
In June 2014, RPAMDLS became the first medical library in the Philippines to implement EBSCO Discovery Service (EDS), a powerful platform that allows the institution's 4,000 users to search across most of the library's collection at once using a single search box.
We felt that EDS offered the best solution to meet our needs.
De La Salle Health Sciences Institute
Challenges
Prior to implementing EDS, users found it frustrating to search the medical library's resources. According to Library Director Efren M. Torres, Jr., the library website included a list of links to the library's subscription databases; however, users did not always know which database to choose or would limit themselves to searching only the databases they were familiar with. As a result, some of the library's collection went underused.
"If our users find the search process too cumbersome, they may opt not to use the online databases and resort to other, simpler ways of finding information," Torres said, citing Google as an example. Searching for the same information in multiple platforms can be time-consuming, so the less persistent users may miss out on relevant content. "Listing each online database is helpful if a user prefers to search within a specific database," he explained. "But it could be a bit tricky if the user wishes to do a comprehensive search across all of our online databases."
Torres said the institution wanted to provide a better search experience to library users and knew that a single-search tool was the way to go.
"One of our main considerations was the compatibility of the platform with our other online databases," Torres said, adding that EDS provided the ideal solution.
Solutions
According to Torres, EDS offered the best solution to meet the library's needs for two main reasons.  First, the library's online databases and its Integrated Library System, Follett Destiny, synchronized well with EDS. In addition, he said, EBSCO Technical Support has been reliable and quick to respond to their questions.
"We are quite satisfied with how EBSCO Technical Support responds and acts on our queries and requests," Torres said. "This was among the factors that made us decide to subscribe to more EBSCO products."
Branding & Customization
After a brainstorming session, librarians branded EDS as "iSearch" — a name which, according to Torres, reflects the distinct ability of EDS to perform a comprehensive search. "It also emphasizes the user having control over how he wishes to find information by using the first person pronoun 'I,'" Torres explained.
Torres said that the "catchy name" has helped the library to more easily promote the resource to users. In addition, the tabbed EDS search box is prominently displayed on the library homepage for easy access. The search box includes tabs across the top that allow users to choose how they search the library's collection.

The institution customized the search results page with the institutional logo, colors, and a number of widgets for online databases that could not be directly searched via iSearch, such as Clinical Key, OvidSP, NetAnatomy and other resources. The results page also features links to the institution's Research Guides, MeSH Suggested Terms and the library's chat service.
In addition, depending on the user's search term, an Exact Match Placard may appear at the top of the search results list, enabling the user to search within a specific publication. For example, a search of the term "pharmacotherapy" invites users to search within Pharmacotherapy: The Journal of Human Pharmacology and Drug Therapy. The Exact Match Placard is a feature of EBSCO's new Full Text Finder technology which saves users time when they are searching for journals and articles.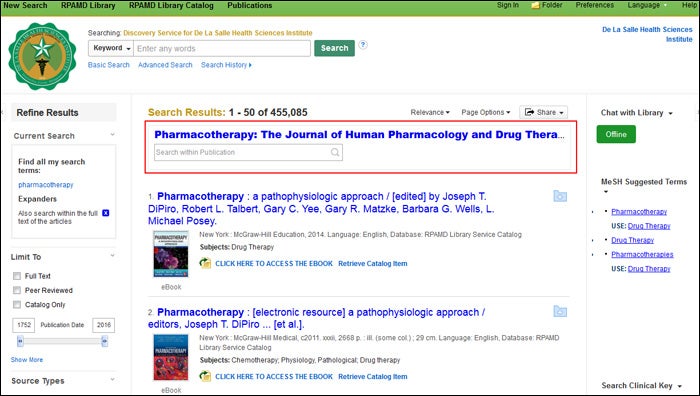 Torres said that embedding widgets on the results page means users don't have to leave the EDS interface and replicate their searches on other platforms.
"These widgets also suggest alternative sources of information to users, driving them to be more proactive in searching for information," he said.
Training
To become familiar with iSearch, DLSHSI library staff attended sessions led by EBSCO's training specialists. To promote the resource among members of the DLSHSI community, the library disseminated posters and executed an email campaign. The posters included QR codes to encourage users to check out iSearch on their mobile devices.
Torres said the Library now introduces both the Online Public Access Catalog (OPAC) and iSearch to freshman students during library orientation.
"If we expose students to iSearch early on," Torres said, "we think that there is a good chance that they will consider using it to search for information aside from the OPAC."
Benefits & Results
Although Torres has not yet studied usage statistics for EDS, he plans to do so very soon.
"We expect to see comparable session statistics between our OPAC and EDS," he said, adding that it may take several months for users to transition from the catalog to EDS. "We are hopeful that its prominent space in our library website as well as our marketing strategies [will] encourage them to use it."
Early conversations with students suggest that they will prefer to use EDS because it lets them search the library's print and online resources at one time.
"They [also] appreciate the full text links to e-books and e-journals," Torres said. "They [can] just click within the search results page of EDS, much like what they [can] do in Google."