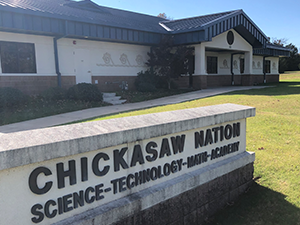 Overview
Located in Ada, Oklahoma, STEM (Science, Technology, Engineering and Math) Academy is an after-school program sponsored by the Chickasaw Nation. This innovative 7,000-square-foot facility aims to inspire Native American youth to pursue careers in the hard sciences. Established in 2011, STEM Academy houses the tribal robotics program, Lego League and Chickasaw Nation Aviation and Space Academy (CNASA). Approximately 50 elementary, middle and high school students participate in STEM Academy, meeting regularly and competing in regional, state and national competitions.
Recently, STEM Academy's VEX-IQ seventh- and eighth-grade teams won awards for the STEM Research Projects presented at regional VEX-IQ Challenge competitions. The seventh-grade team also won at the state championship. Students on both teams used EBSCO's Middle Search Plus database to complete research for their winning projects.
Luckily, our state recognizes the value of EBSCO resources and provides them to all Oklahoma students at no cost.
Chickasaw Nation STEM Academy
Support for STEM Learning
The purpose of the VEX IQ Challenge STEM Research Project is to help students understand how the fields of science, technology, engineering and math are related. Each season, one field of study is featured, providing students an opportunity to learn more about how it relates to robotics and how what they are learning in the classroom has a practical application in their lives.  This year's theme is math.
The STEM Research Project asks each team to research and present a creative, math-based solution to a challenge that interests them. Students must research their challenge topic using a variety of reliable sources — such as engineering and scientific journals, electronic resources and subject-matter experts — and then prepare a script and produce a four-minute video.
Teachers Clayton Edwards, Vicky Standridge and Spencer Cody — the three mentors who work with STEM Academy's VEX IQ teams — said EBSCO's Middle Search Plus proved to be a valuable resource for the students during the research phase of their projects.
"EBSCO provides reliable research databases and articles that would not be available to them otherwise," said Standridge, who joined STEM Academy in fall 2018.
As a longtime librarian and teacher in Oklahoma school districts, Standridge knew that the Oklahoma Department of Libraries had a collection of EBSCO resources which could help the teams with their research projects. She immediately contacted the state librarian and arranged for STEM Academy to gain access to the resources through Oklahoma Digital Prairie.
"Luckily, our state recognizes the value of these resources and provides them to all Oklahoma students at no cost," she said.
Seventh-grade team Hattak Tali' (Chickasaw for "Metal Men") — featuring Bradan Estrada, Jackson Swopes and Aaron Troglin — chose to design a shelter that would enable three people to survive a nuclear blast. They used math to determine the dimensions of the shelter as well as how many calories and how much fluids they would need to consume each day to survive for 10 years.
"The articles they found in Middle Search Plus provided a lot of the numbers they needed," Standridge said.
Meanwhile, eighth-grade team Tashka Tali' (Chickasaw for "Metal Warrior") — featuring Jacob Baker, Noah Hinson, Drennan Jesse and Trevor John — conducted research to determine which would be the best renewable resource to generate electricity. Students found articles from publications such as TIME, Discover, National Geographic and Popular Science as well as government documents and helpful reference books such as Salem Press's Encyclopedia of Science. After researching several alternative energies and their associated costs, the team selected hydropower.
"The thrill of robotics competitions is an experience that I love to share with others, and I could not be prouder of both of our teams," Standridge said. "Our VEX IQ students worked very hard on their projects and […] represented our state and the Chickasaw Nation very well."