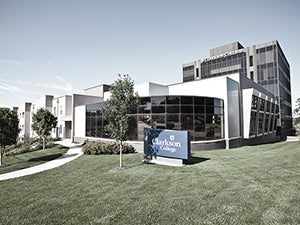 Overview
Located in Omaha, Nebraska, Clarkson College is a private, non-profit institution offering undergraduate, graduate and post-graduate degrees in the health sciences from front-line care such as nursing, physical therapy and radiology to administration, management and associated health care services. To support the research needs of the college's more than 1,200 students and 200 faculty and staff, the library offers a robust collection of books, e-books, journals and a variety of subscription databases.
For Clarkson College, [which is] looking to attract top-flight students, it is absolutely vital that we have seamless access to provide a positive experience for users. OpenAthens has allowed us to meet that expectation.
Director of Library Services
Challenge
Previously, the library offered limited virtual service to support the institution's curriculum programs. However, off-campus students could not access print material and had significant challenges accessing digital content. To authenticate users, the college was relying on a version of EZproxy that had become outdated. In addition, the implementation had been set up in a piecemeal way, making access patchy and insecure.
Director of Library Services Anne Heimann was brought in to help transform the library. She set about creating a virtual library with the goal of providing the same level of service no matter where users are located. This was critical since a large population of Clarkson College students are distance learners.
As part of overall service improvement, the college had deployed OneLogin to provide a single portal for all digital resources. Heimann worked with EBSCO, one of the college's main content providers, to find a solution to improve access to library resources, especially for remote students, as well as one that would integrate with OneLogin.
"The choice was really between EZproxy and OpenAthens," said Heimann. "We had considered upgrading and refreshing EZproxy, but it was very outdated and would have been quite technically challenging. OpenAthens, on the other hand, just gave us that instant access. It was also simple to use and offered seamless integration with our new OneLogin virtual college platform which allows students to use their network credentials to access library resources."
Solution
OpenAthens was quickly integrated with OneLogin usernames and passwords to provide transparent single sign-on authentication to library resources. The virtual library is one of the digital services provided by the college; connecting it with OpenAthens means that users — whether on campus or thousands of miles away — can now simply go to the virtual library where they have universal access to all library content.
"OpenAthens setup was a huge plus for the college," Heimann said. "The fact that OpenAthens integrates so seamlessly with OneLogin made installation easy — I think it took us about an hour. Working with the OpenAthens and EBSCO teams was wonderful. Both work in close partnership and were very responsive to any issues we had — definitely a positive experience."
Once OpenAthens was integrated, Heimann was able to handle all content and publisher setup herself, calling on OpenAthens and EBSCO if she needed advice. It took just a few weeks to get all resource authentication switched from IP or EZproxy to OpenAthens. It was a process that Heimann describes as "very simple and easy."
Benefits & Results
With OpenAthens, the Library is better meeting the needs of today's users who expect instant, secure online access to information resources.
"For Clarkson College, [which is] looking to attract top-flight students, it is absolutely vital that we have seamless access to provide a positive experience for users," Heimann said. "OpenAthens has allowed us to meet that expectation."
OpenAthens has also made usage reporting much easier. Heimann can access the OpenAthens management portal and get reports on usage for each resource. Five months after OpenAthens was deployed, the library experienced 38,000 accesses, with EBSCO content representing the most-used resources.
"OpenAthens gives us a lot of really good data against which we can make better purchase decisions," Heimann said.
She also appreciates the detailed, real-time insights offered by OpenAthens. "What I really like is the ability to track resource use even by individual," she said. "So, when a student calls about an issue, I can go in and see, in real time, where they have gone while they're still on the phone and provide the help they need instantly."
Finally, OpenAthens allows the Library to manage its resources without having to contact the college's IT department.
"Previously, we had to ask IT to do something or tell them something wasn't working," Heimann explained. "Now I can go in and add or move a resource, or check up on student activity. OpenAthens is really about giving control back to the library."