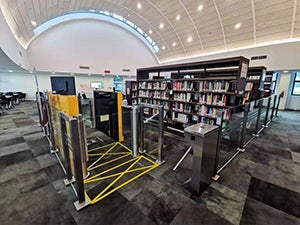 Overview
The Library at Singapore Institute of Technology (SIT) serves 4,000 students and 300 faculty members. To support their research needs, the SIT Library maintains a collection of 3,200 print books, 160,000 e-books, 90,000 e-journals, 52 databases and 30,000 videos. These resources can be easily accessed by remote users, including those participating in clinical placements, overseas immersion programs and integrated work study programs.
Recently, the library replaced its proxy service with OpenAthens, a SAML-based single sign-on access management system that offers greater security, flexibility and stability.
Challenges
Prior to implementing OpenAthens, the SIT Library found it difficult to ensure a secure environment, manage its server and integrate user access across all its database subscriptions with single sign-on.
Library leaders were looking for an access management tool that would allow them to group and manage users based on multiple attributes and generate usage reports related to individual resources.
Solutions
After a thorough evaluation process, SIT library leaders selected OpenAthens as a solution because, as a cloud-based system, it would allow the library to meet SIT's rigorous security standards and align with the institution's information technology direction.
"We liked that fact that OpenAthens can fully integrate with SIT's single sign-on system and can support both IP and Federated Authentication," the SIT Systems Librarian said. "The ease of use when it comes to managing resources, grouping users based on Active Directory (AD) attributes, and generating reports was also a huge plus."
Benefits & Results
Although accessing some library resources requires more than a single click, which was initially confusing to some students and staff, access via the library's discovery platform is a little smoother with OpenAthens for many resources.
Librarians praised OpenAthens for its ease-of-use and stability. After previously experiencing a troublesome VPN at another university, one librarian said accessing library databases at the SIT Library has been "so easy, it is almost like a dream come true."
Librarians noted that when the library onboards a new publisher resource, each must be configured with OpenAthens to gain access. This additional turnaround time can be challenging for resources that are not SAML-compliant.
However, since OpenAthens can be managed by the library team, the library has become less reliant on SIT's IT department.
Once OpenAthens is fully implemented, library leaders plan to use the data to monitor logins and database access. They will also track which resources are being used by which user groups to better understand user behavior. These insights will enable library leaders to make more informed decisions moving forward.