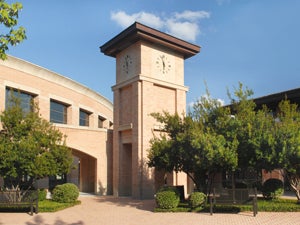 Overview
Located in Houston, Texas, The Kinkaid School is a college-preparatory private institution that includes an Upper School, a Middle School and a Lower School, each with its own library. The Upper School's Moran Library, which serves 600 students and 50 faculty members, offers a collection that includes 25,000 print volumes, 121 databases and hundreds of e-books. In February 2014, to streamline access to these resources, the Moran Library implemented EBSCO Discovery Service (EDS), a powerful research platform that allows students to search across a majority of the library's collection at once using a single search box. Since then, students have become more confident in their research and are better prepared to use the library search tools they'll encounter in college.
[EDS] is really what our kids need, and it has worked beautifully. We ended up with a product that we love.
Director of Libraries and Archives
Challenges
As the Moran Library added more and more databases to its collection, students became increasingly overwhelmed by the number of choices. Not knowing where to start, they often turned to Google. This came as no surprise to Dorian Myers, Director of Libraries and Archives for The Kinkaid School.
"Google made it so easy for kids to find stuff online," Myers explained. "When I went to school, the problem was finding any information. Now the problem our kids face is too much information, too many sources." What's more, she added, the information found on the internet is not always trustworthy.
To improve students' access to reliable research content, Myers began looking for a tool that would allow them to search the library collection as easily as they searched Google. First she tried a federated search product, which proved to be "incredibly slow." She then tried a competing vendor's discovery product, but it was "difficult to set up" and "never worked right." In 2014, her EBSCO sales representative convinced her to trial EDS. When she saw what it could do, she knew it was the solution she had been looking for.
"I've been wanting a service like this for 20 years," Myers said. "It was a turn-key solution."
Solutions
Myers worked with EBSCO to load the library's catalog data into EDS and customize the interface so users could identify it as part of the library's resources. The EDS home page is branded with the school logo and colors and features an image of a watercolor painted by a former student. The EDS home page also displays a single search box as well as links to other key library resources such as LibGuides and NoodleTools. There is also an EDS search box embedded in the "Favorites for Faculty" LibGuide. Results open up in the native EDS interface.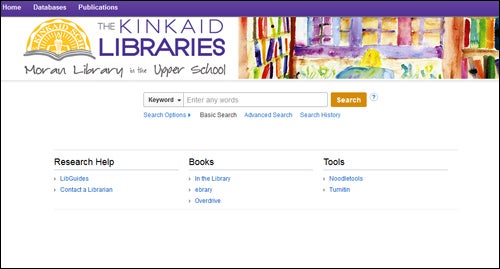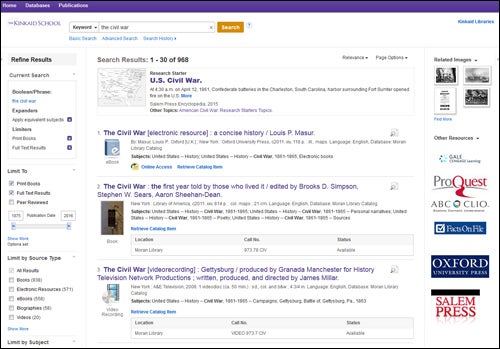 Myers was pleased with the level of support EBSCO provided in setting up EDS and enhancing the service to best meet the needs of students and faculty. For example, EBSCO helped her raise the relevance of items in the library's print collection so that they rank higher in search results. They also enabled real-time availability so students know when an item is on the shelf or checked out.
"I envy the college libraries that have a large staff with people who know about setting up databases and discovery systems," Myers said. "There's not many of us here to do that, and it's not my forte, so it's been with EBSCO's help that we've made it work here."
Benefits & Results
Since launching EDS at the Kinkaid School's Moran Library, students have become active users of the tool and have found Research Starters, summary articles on popular topics, to be especially helpful.
Recently, teachers brought their sophomore World Civilizations classes to the library to do research. After their teachers had shown students where to find the library's history databases on the class LibGuide, a student came up to Myers and said, "I remember last term I used a tool that searches everything. Where's that?"
Bringing a tool like EDS to The Kinkaid School was also a strategic decision, Myers said. Many college and university libraries in the area use discovery services.
"It makes sense that we have [EDS] so the kids have seen it before they get overwhelmed with all the other new things that college brings," Myers said. "This is really what our kids need, and it has worked beautifully. We ended up with a product that we love."