Overview
Located in England's Essex County along the Thames Estuary, South Essex College of Further and Higher Education enrolls more than 8,000 students across six campuses. Opposite the Southend Campus is the Forum, a modern library that hosts three different institutions: South Essex College, the University of Essex and the Southend Public Library. To support the research needs of South Essex College students, the library maintains a collection of 119,000 titles, including 120 e-journal packages and more than 11,400 print books. The library also subscribes to Flipster®, EBSCO's digital magazine solution, and several EBSCO databases.
Recently the library implemented EBSCO Discovery Service (EDS) to serve approximately 800 students in the Higher Education division. Branded as "Sherlock," EDS has made research easier by enabling this user group to search across the library's entire collection via a single search box. It has been so successful that the library is currently piloting another instance of EDS for students taking Access to Higher Education courses in preparation for university-level study.
Challenges
When Learning Resources Manager Anne-Lise Harding arrived at South Essex College five years ago, the library catalogue was outdated and did not allow for integration with online resources. Students had to bounce from one database to another to perform searches, and librarians spent a lot of time at induction teaching them how to navigate the system.
"I knew that we needed something better, especially for our Higher Education students who undertake a large amount of research," Harding said. "They needed all of this good content, online content that we were paying for, to be available."
Harding's first step was to change the catalogue to Liberty, a library management system from Softlink. It was a step in the right direction, she said, in that students could begin to appreciate the ability to search the library catalogue for both online resources and physical resources. However, the system could not integrate all the library's online resources and packages. Harding wanted to create a more seamless search experience for her users.
When Harding's EBSCO sales representative introduced her to EBSCO Discovery Service (EDS) — a powerful single-search platform that unifies all the library's resources — she promptly requested a free trial.
"I knew from the get-go that it would really improve the student experience," she said.
Quote
Students have been so impressed by the breadth of resources that they have access to from a single search box. They comment on how easy EDS is to use.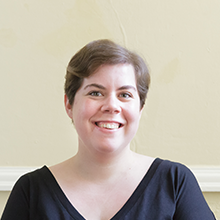 — Anne-Lise Harding, Learning Resources Manager
South Essex College of Further and Higher Education
Solutions
During the summer of 2018, the library at South Essex College implemented EDS as a unique library tool for Higher Education students. These students pay higher fees than Further Education students and therefore have exclusive access to resources such as Canvas, the Learning Management System, as well as Flipster, Academic Search™ Elite and SPORTDiscus™ from EBSCO.
Implementation
EDS creates a unified search experience for users because it brings together the library catalogue, institutional repositories and electronic subscription resources – all in one place. Library catalogues and institutional repositories can be directly loaded into EDS via OAI-PMH or FTP. After consulting with the EDS implementation team, Harding asked her college's IT department to write a script that automates the upload of new MARC records to the library's FTP account, ensuring that the library catalogue is updated in EDS daily.
Also streamlining the user experience is single sign-on access. South Essex College uses OpenAthens access management software to authenticate users, so students can connect to the library's resources whether they are on campus or off.
"Our students like to work from home," Harding said. "I try to make it as easy for them to log in because I don't want any barrier to their research."
Although she did not recruit student testers during the EDS implementation phase, which took place during June and July, Harding relied on "years of frustration" from library users and her own experiences as a recent graduate student to inform her decisions. Now, when she presents EDS to students at the beginning of the semester, she invites them to share their comments and — whenever possible — tweaks the tool to better meet their needs.
"I can make changes for them, and they really appreciate it," Harding said. "It's been this feedback mechanism throughout the academic year that has allowed me to tailor EDS to meet student expectations."
Customization & Branding
South Essex College's EDS site is called "Sherlock Higher Education," an expanded version of the catalogue (which was also named "Sherlock" when the library first implemented Liberty). The Sherlock logo features a light bulb to represent the moment of sudden illumination a researcher might experience.
"We retained the Sherlock brand because it's a good name for a search tool," Harding explained, referencing Sir Arthur Conan Doyle's fictional private detective. "Higher Education students see it as an extension [of the catalogue]. It still is the library, but it is their own."
The library branded EDS with the college's colors — teal, blue, red, gold and green. From the home page, Higher Education students can conduct a keyword, title or author search. A revolving Flipster carousel appears below the search box, so users have the convenience of browsing digital magazines right from EDS.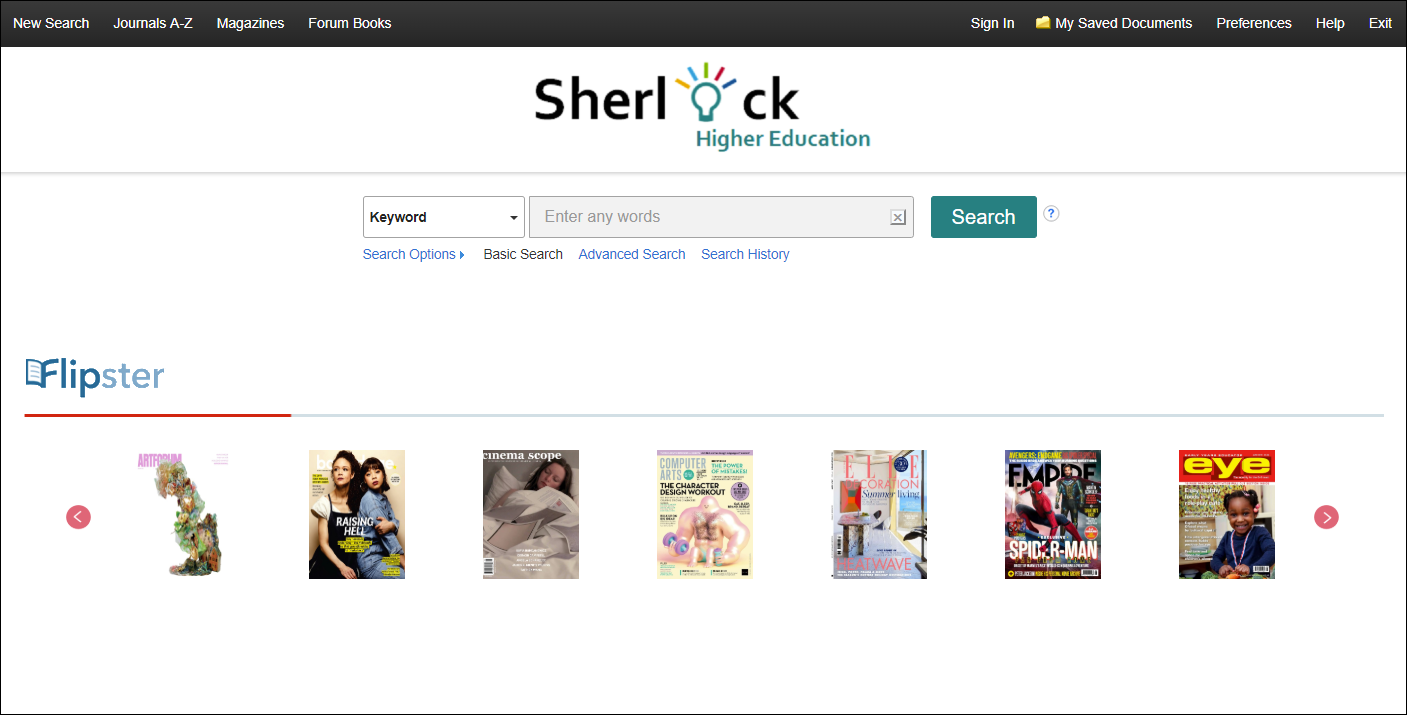 Sherlock Higher Education home page
The library also chose to customize the search results page.  For instance, at Harding's request, one of EBSCO's library service engineers implemented an app to highlight print books in yellow to make them stand out more clearly against e-books and other document types.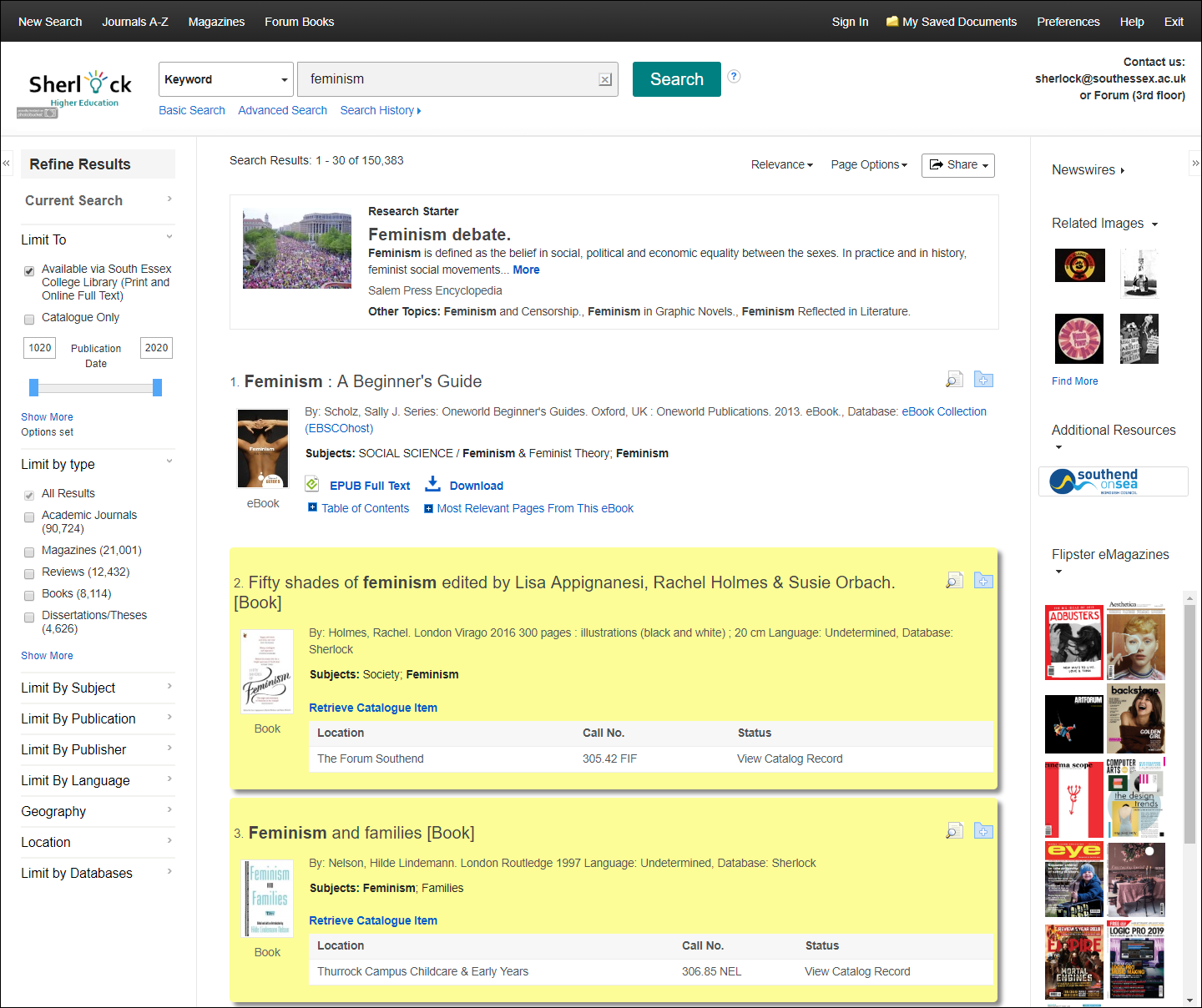 Search results page
Promotion
The library officially launched EDS at the start of the Fall 2018 semester. Harding and her colleagues visited classrooms and provided EDS demonstrations to all students during library induction. Harding also promotes Sherlock in the Forum's Higher Education study center and in a student planner she publishes about university and library support services.
Benefits & Results
Usage statistics showed that Sherlock Higher Education saw 6,473 sessions from September 2018 to May 2019. Students downloaded more than 3,700 full-text articles and viewed more than 7,300 abstracts.
Harding said students have quickly learned to filter search results to pinpoint the most relevant articles. Also helpful are the Research Starters — citable, authoritative summary articles that appear at the top of the search results page for the most popular topics.
"Feedback has been overwhelmingly positive," Harding said, adding that students working on dissertations have been especially thankful. "Students have been so impressed by the breadth of resources that they have access to from a single search box. They comment on how easy EDS is to use but also mention how frustrating the research process is at times, which is where our expertise as librarians is invaluable. I think implementing EDS, being supported by IT and EBSCO, and being able to confidently engage with students has been the real success story."
"Sherlock Higher Education" has been so successful that Harding is now working with EBSCO to create a second instance of EDS for the Access to Higher Education students who are making the transition from Further Education to Higher Education.
"They don't have access to the breadth of resources that Higher Education students do, but they still have enough that they can learn the principles of research," Harding explained.
In addition, the library is trialing Curriculum Builder, an LMS plug-in from EBSCO that enables faculty to bring the library's quality databases, e-books, and other digital resources from EDS directly into the online learning environment (Canvas).
"I think this will be a lovely transition for first-year students," Harding said. "They will be able to trial a 'narrow' experience of EDS — a safe environment — and then move on to 'deep-end' research."