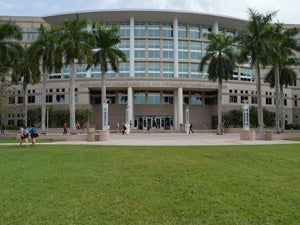 Overview
Located in Ft. Lauderdale, Florida, Nova Southeastern University serves approximately 19,000 full-time students. The institution's Alvin Sherman Library, a joint-use facility between Nova Southeastern University and the Broward County Board of County Commissioners, features a collection of more than 1.1 million items. In an effort to provide users with more digital content, the Library launched Flipster®, EBSCO's online magazine newsstand, in January 2015. Since then, Flipster magazines have experienced more than 17,000 online views and nearly 1,700 downloads, with People and Consumer Reports being the most popular.
Flipster has a great interface, and it is superior to Zinio's.
Nova Southeastern University
Challenges
A desire to add value to its library collection without taking up physical space led library leaders at Nova Southeastern University to examine ways to bring more digital services to users.
"Patrons were seeing digital services offered elsewhere, so we were getting more and more requests for digital items," explained LeThesha Harris, Adult Services Librarian. "We know that if we have something we can offer to them remotely, it's a plus."
Solutions
In the summer of 2014, EBSCO introduced library leaders to Flipster, a digital magazine solution.  According to Acquisitions Librarian Andrew Copnick, the timing was fortuitous.
"We were going to be initiating our annual renewal for print subscriptions," Copnick explained. "Since Flipster already had some of the titles that were significantly used within our print collection, it was a no-brainer to go forward with this initiative."
Libraries that purchase Flipster incur no platform fees and only a five percent subscription service fee. For example, a library can subscribe to $1,000 in digital magazines through Flipster, and pay only an additional $50 a year for a total of $1,050.
In addition, subscription terms are flexible. A library can add magazines at any time during its initial subscription period, and they will also expire on the original expiration date set at the time of purchase.
Although the Sherman Library started its Flipster subscription with 38 magazines, that number has since grown to 94. In addition to People and Consumer Reports, the most popular magazines among Sherman Library users are Cosmopolitan, Entertainment Weekly, Essence, Rolling Stone, Sports Illustrated and Time.
According to Web Services Librarian Michael Schofield, one of Flipster's greatest benefits is its mobile user experience.
"With Flipster, EBSCO has created a robust mobile web app that has a nice interface and doesn't require something like a Flash or Silverlight plug-in," Schofield said. "Flipster has a great interface, and it is superior to Zinio's."
The Library has promoted Flipster in a number of ways. Traditional marketing efforts include posters, e-newsletters and press releases.
In addition, Schofield created a special landing page for Flipster that highlights specific magazines on a rotating basis. Schofield said he is also able to link users directly to articles within Flipster, which comes in handy for targeted social media campaigns.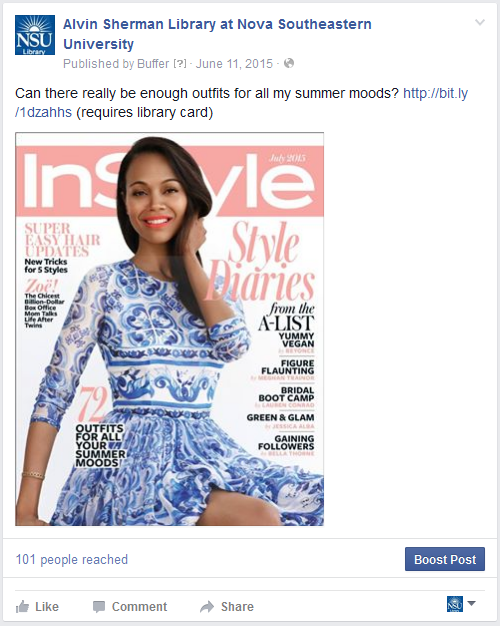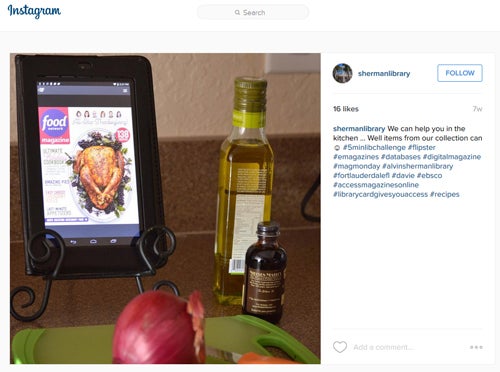 Benefits & Results
Since the launch, Flipster has experienced more than 17,000 online views and nearly 1,700 downloads. "I think these numbers are pretty darn good," Copnick said.
According to Susan Berkman, Reference/Subject Specialist Librarian for Business, students are using Flipster magazines such as Time, Bloomberg Businessweek, Forbes and Fortune to support their research and other class assignments.
"A lot of the times they're looking for current events and things in the news, and I direct them to Flipster," she said, adding that she shows students how to set up alerts so they know when the next issue is available. "This is how they can keep up with what's going on in their discipline and in their field, and I think that's really important."
Harris said users have been enthusiastic about Flipster because they can access the magazines from wherever they are.
"If they're going on a trip or they're waiting in a doctor's office, the magazines there might not be what they're interested in," Harris said. "But they know they can access a wide range of titles from the library."