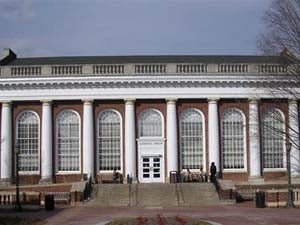 Overview
Located in Charlottesville, the University of Virginia (UVA) offers 56 bachelor's, 79 master's, and 54 doctoral degree programs in a variety of fields such as architecture, business administration, education, engineering, law, medicine, nursing, and the arts and sciences. One of the top public research institutions in the country, UVA has more than five million print volumes, nearly 463,000 e-books, and dozens of electronic databases in its library collection. In 2014, the UVA Libraries replaced their previous discovery platform with EBSCO Discovery Service (EDS), a research solution that streamlines access to library resources through a single search box. With superior relevance ranking that quickly surfaces pertinent search results and a robust API that integrates with the Libraries' Blacklight-driven interface, EDS has given librarians a more reliable research tool to offer students and faculty.
Having current, scholarly items listed first is very important, and EDS does a good job with that.
Head of Brown Science & Engineering Library
Challenges
Prior to implementing EDS, the library subscribed to Primo, the discovery platform developed by ExLibris. According to Esther Onega, Head of the Brown Science and Engineering Library, she and her colleagues were not happy with the tool.
"We felt the results were not as relevant as they should have been," Onega said. "A lot of things, such as book reviews, were coming up first—not always scholarly articles. And a lot of really old things came up." She recalled a search for "fuel cells" which turned up an article from 1964 at the top of the result list. "A lot has been done on fuel cells since 1964," she said. "I really couldn't stand behind those article results."
In addition, Onega said, library staff members were dissatisfied with the quality of the metadata provided in the Primo product.
"The records were so brief, the only information you could see before you opened the record up was the journal title, the date, the article title, and the author," Onega explained. "You would know nothing else about it. You didn't know how long it was. You didn't know what the gist of the article was. You wouldn't know whether it was going to be relevant or not until you took the time to open it, and that was very frustrating."
In the spring of 2013, after ExLibris was unable to resolve the Libraries' issues satisfactorily, Onega and four of her colleagues were selected to spearhead the search for a new discovery service. To ensure all key stakeholders were involved in the evaluation process, the committee included the user experience librarian, a liaison from information technology, the serials and database subscription manager, and a representative from the acquisitions and cataloging department.
"It was really important that the staff felt comfortable with whatever product we were going to get," Onega said. "That kind of library-wide understanding is absolutely crucial. All of us on the team were really committed to making sure that people were consulted."
Solutions
The committee evaluated EDS as well as Summon, ProQuest's discovery product. The UVA Libraries' search, known as "Virgo," is powered by Blacklight, an open source Ruby on Rails gem that provides a discovery interface for any Solr index. Items from the Libraries' Sirsi Unicorn ILS are acquired via a nightly batch process which transforms MARCXML into Solr records. The Libraries' software developer was able to implement EDS and Summon in a modular manner so that staff members could conduct user testing of each service in a context similar to the production system.
Onega said the Libraries never considered evaluating the native EDS or Summon interfaces because students are accustomed to the Virgo search.
"We have so many online resources, so we were trying to figure out how to make sure that the discovery service had the best chance of being used," Onega explained. "Including it in Virgo, which has name recognition here at UVA, made it more likely for people to hit it without realizing they were searching it."
After a six-month trial period, which included a formal survey of library staff and 40 faculty members, the evaluation team selected EDS as the Libraries' new discovery service. Onega cited the EBSCO tool's flexible API as well as its rich metadata and superior relevance ranking as key factors in their decision.
"Having current, scholarly items listed first is very important, and EDS does a good job with that," Onega said.
In addition, the facets in EDS are more intuitive than those in the other discovery services evaluated by the committee. "One of the [other] discovery services broke down subject phrases into words and listed them separately in the facets which made for a confusing display," she explained. "The faceting was especially helpful in EDS."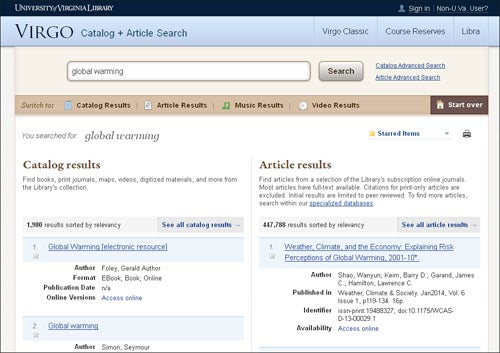 Finally, Onega said, EBSCO offers top-notch customer support.
"Overall, everybody was really impressed with the quick response from EBSCO, the willingness to address [our] questions and concerns," she said. "All things considered, EBSCO came out on top. Everybody was satisfied with EBSCO as our new discovery vendor."
The Libraries launched EDS in early June 2014, after the spring semester ended. Onega has not yet been able to solicit student feedback, but she plans to do follow-up testing in the fall. Until then, Onega is inclined to measure the tool's success by the comments she has received from her library colleagues. So far, she said, they are happy with EDS.
"I'm hoping that the library instruction staff feels more confident in the results we're getting," Onega said. "I think if librarians are feeling comfortable with [EDS] and are encouraging people to use it, then those of us on the evaluation team will feel like we've done our job."
To learn more about EBSCO Discovery Service, or to request a free trial, click here.