Understanding user engagement helps librarians and knowledge managers support and provide successful research experiences to their community and more. When it comes to obtaining data and integrating user behavior for analytics, the traditional approach of manual workflows, disparate data sources and offline spreadsheets can no longer be the typical process.
OpenAthens helps to deliver and consolidate data to provide insights into user behavior. Customers gain access to visual dashboards via the Data Explorer module just by enabling single sign-on (SSO) access for their users. By default, the "Resource access reports" section demonstrates how many users are accessing providers and when. This enables librarians to see which resources get the most usage and those that might need more promotion. Library staff can also be aware of peak usage hours whether users are on or off campus to help provide better support coverage.
A minimal amount of user data is required to enable SSO with OpenAthens, but institutions have the option to expand the attributes they either send to OpenAthens or maintain directly within OpenAthens, to get more granular usage details. This is possible with minimal effort because custom attributes can be easily added to OpenAthens. This means the data elements can be unique and relevant to your institution. Best of all, the reporting features and custom attribute functionality are standard out of the box features that come at no extra charge.   
Example attributes
Your organization's IT team probably maintains a user type or affiliation (such as Student, Faculty, Staff, Alumni) on each account. The affiliation details are not required within OpenAthens to enable SSO, but it can be sent and stored in OpenAthens. This will enable usage reporting to be broken down by affiliation to track what type of users are using all resources or specific resources. Other attributes commonly mapped to OpenAthens include department, location, branch, role, occupation, and academic major and minor.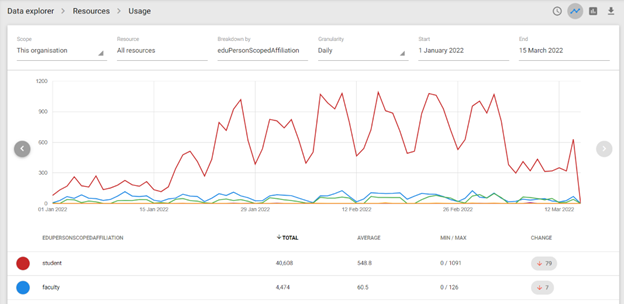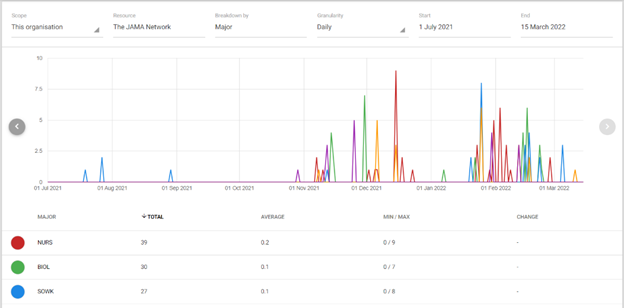 How to add custom attributes to OpenAthens reports
Defining custom attributes requires low effort. Ask your IT team to release specific details from your organization's directory along with the attributes they already send to OpenAthens. In the OpenAthens Administrative portal, you need to map those attributes by navigating to Management > Connections > Attributes. Step-by-step instructions for mapping can be found here. Alternatively, our support team can assist with this process. Contact the support team by creating an account at EBSCO Connect. 
Once the desired attributes have been mapped within OpenAthens, use the Schema Editor to mark those attributes as "reportable." The Schema Editor can be found at Preferences > Schema Editor. Hover over the desired attribute and select the Mark as reportable button. Once you have marked the desired attribute(s) as reportable, they will begin showing in your OpenAthens usage reports as a breakdown option. Marking an attribute as reportable is not a retroactive change; the breakdown will only appear in your usage reports from that point forward.
Watch an OpenAthens Statistics video presentation from ER&L 2022
User-level statistics
Some libraries want specific user-level usage reports to compare with academic outcomes. OpenAthens' usage reporting is anonymous as a default, but libraries can opt to make user-level attributes (such as an ID number) reportable if there is a need for those breakdowns. Please note, as the owner of user data the organization is responsible for adhering to any institutional or regional data privacy regulations. Read OpenAthens Privacy Policy here.
Gain insights you need to effectively serve and support all types of users. OpenAthens helps you save time by consolidating some of your user data with usage reports at no additional cost to your institution when you purchase OpenAthens authentication services. For added convenience, reports can be scheduled for email delivery to run daily, weekly, or monthly. There is also an optional reporting API available which programmatically delivers OpenAthens data to your data analysis tool.