Retired Missouri educator August Spallo, Jr., dreamed of one day owning and operating an ice cream food truck. But without any experience in the restaurant industry, he didn't know how to start his business. He had a lot of questions, and, as he discovered, his local library had a lot of answers.
"My food truck would never have happened had it not been for the people at Mid-Continent Public Library," Spallo told attendees during Part Two of EBSCO's Libraries and Entrepreneurship Webinar Series: Feeding the Entrepreneurial Spirit.
Square One Small Business Services at Mid-Continent Public Library (MCPL) is an economic empowerment team that supports sustainable community growth by providing access to development opportunities. Square One's "The Business of Food Trucks" program is designed to give entrepreneurs like August a leg up.
"They held my hand the entire journey of learning about the food truck industry," Spallo said of the Square One team at MCPL. "They put me in touch with people; they answered my questions. They could always help me by pointing me in the right direction."
After nearly four years of planning and preparation, Spallo officially opened Ciao Bella Ice Creamery and Bakery, a food truck specializing in locally sourced, made-from-scratch ice cream and cookies. The truck's very first event was MCPL's 2019 Food Truck Face Off, an annual competition for first-year Kansas City food truckers. Ciao Bella won "Rookie of the Year."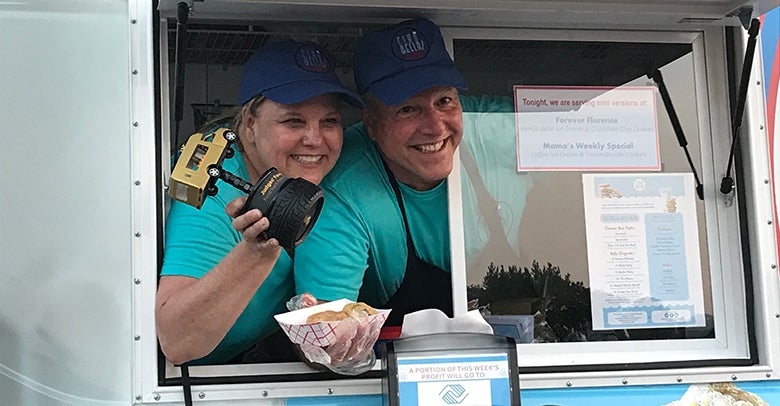 According to Morgan Perry, Business Outreach Specialist at MCPL, Square One offers a six-hour food truck workshop (in English and Spanish) as well as classes on navigating health and safety regulations, bookkeeping, marketing and branding.
After completing the food truck program, Spallo was inspired to create a 16-week food truck startup guide that MCPL uses in its current workshops. He also serves as an instructor in the library's program and a mentor to other entrepreneurs who want to start food trucks.
"We love to watch an entrepreneur grow, have such a great experience and then, ultimately, get involved in the education process for a new generation of food truckers," Perry said.
Spallo said creating the food truck startup guide was his way of "paying it forward" after all the help he received from MCPL. "I think most small business owners want to give back to the community," he said. "I don't know any small business owner that did it all on his or her own with help from no one. I had help from the library system. I had help from other food truck owners that gave of their time and knowledge over and over again while I was preparing for this journey."
For libraries without a staff member or team dedicated to supporting the business community, Perry says "passive programming" is a good first step. This can be as simple as creating a book display featuring titles of interest to entrepreneurs.
"Even if you have the slightest amount of time, you can still support the entrepreneurs like August in your communities," she said.
Among MCPL's Square One "passive programming" resources is EBSCO's Entrepreneurial Mindset Training Course, an eight-module, self-paced course that enables aspiring entrepreneurs to learn the underlying beliefs and behaviors that can help them start a new business, pursue a new career, accomplish personal goals, and achieve richer lives.
For MCPL's food truck program, Perry relies on real-world entrepreneurs to provide the workshop content. "That takes a lot of pressure off me," she said. "I don't have to be an expert on food trucks. I just have to find the expert on food trucks."