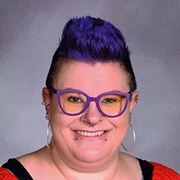 Brandi Young, B.S., M.L.I.S.
Librarian, Westerville South High School
Brandi Young serves as the librarian at Westerville South High School located in Westerville, Ohio. Brandi has been a high school English teacher and theater director; a librarian at the elementary, middle and high school levels; and an Integration Librarian with INFOhio (Ohio's PreK-12 digital library).
Brandi finds joy in her day by having the library full of students reading, laughing and working together. Brandi also enjoys reading, writing and spending time with her spouse, their son, Asher, and their three dogs.