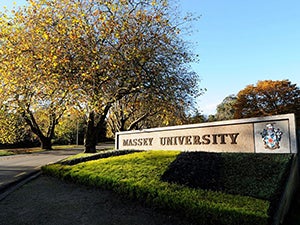 Overview
With campuses in Auckland, Wellington and Palmerston North, Massey University in New Zealand enrolls more than 32,000 students and offers courses in a wide range of subjects. Since many students are scattered throughout the country and around the world, Massey University offers a strong distance learning program as well as a dedicated remote library service. This "one library/one collection" model ensures that the library's e-resources — including its robust e-book collection — are easily accessible to all students, no matter where they live.
The library has been e-preferred since 2014 and will only purchase a print book if it's not available in e-format. The library uses local vendors to procure New Zealand material, and GOBI®, an online acquisition tool from EBSCO, for all offshore ordering. In addition, the library has begun using GOBI to streamline its Evidence-Based Acquisition (EBA) workflows for Taylor & Francis titles.
Challenges
According to Collection Manager Jo-Ann Cowie, Massey University has been participating in EBA programs with publishers — including Wiley, Oxford University Press, World Scientific, Emerald, Cambridge University Press, Springer Nature and Elsevier — since 2015.
In late 2018, the library began an EBA program with Taylor & Francis that included the publisher's full e-book collection across all publication years, including 2019 frontlist titles, valued in excess of $25,000,000. The EBA program had a fixed budget determined at the start of the program and provided the library access to more than 125,000 titles. EBA is one of the institution's preferred e-book acquisition models because it provides large pools of reliable, high-quality content from top publishers that can be made available quickly and easily to distance learners.
In addition, the idea of ownership is appealing. "Basically, you're buying the books in advance," Cowie explained. "That's why the EBA model is perfect for us. It works really, really well."
However, Cowie noted, manual EBA management was taking up too much of the library staff's valuable time.
The EBA model is perfect for us. It works really, really well.
Solutions
While Massey's EBA program with Taylor & Francis was in process, GOBI Library Solutions began offering Taylor & Francis EBA through GOBI. This meant that manual workflows, including deduplication, could be managed by GOBI instead of the library.
Cowie was thrilled to hear GOBI offered this service. "If something's available through GOBI, we will order it through GOBI," she said. "We were quite confident about using GOBI for EBA because they basically knew pretty much all of our holdings."
GOBI loaded the EBA titles in November 2019. Right away, the EBA collection was visible in GOBI. Cowie noted titles that weren't in the evidence-based collection pool but still fit the library's profiles ― including textbooks ― were still coming through on the selection list to be selected by subject librarians. By adding the library's EBA collection to GOBI, librarians could ensure they weren't missing any content.
What was most beneficial to Cowie, however, was the enhanced COUNTER BR1 & BR2 usage reports GOBI provided at the end of the EBA program. Of the 125,000 titles that users had access to over 11 months, approximately 18,000 were accessed with a collective value in excess of $3,333,000. The number of downloads ranged from one to 852 with total downloads exceeding 49,000. In the end, librarians selected 2,577 titles for purchase.
Benefits and Results
At the end of the program, GOBI provided Massey University with a spreadsheet that included full usage data, as well as additional information to help Cowie and her colleagues make informed purchasing decisions. This included summarized title and chapter usage, publication year, LC classification, publisher list price, Massey University author affiliations, identification of earlier and later editions, and more.
"The most important thing of all is that the spreadsheet identified titles that we had previously purchased, either electronically or in print," Cowie said.
Putting the collection through GOBI "was considerably easier than it would have been if we had not run it through GOBI," Cowie said.
It also freed up librarians to spend more time working directly with students.
"There's a lot more pressure on the university and the library to be providing research support," Cowie said. "And so, the subject librarians are doing a lot more of that, and that is the major focus of the work."