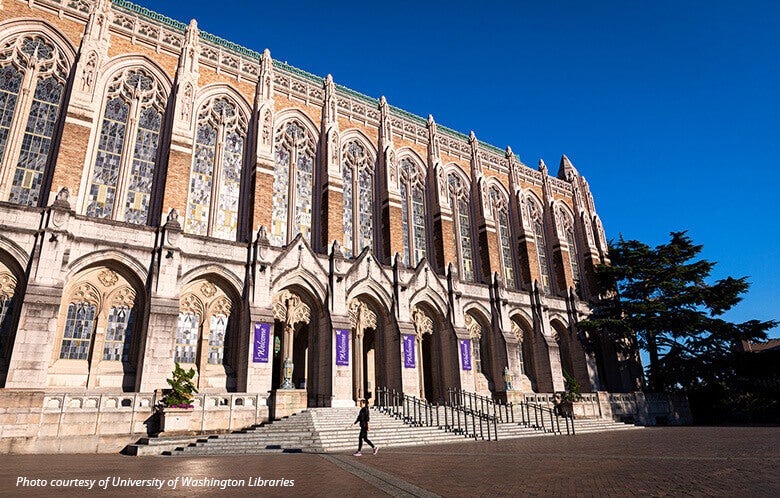 Overview
Serving nearly 60,000 students across three campuses, the University of Washington (UW) Libraries is one of the largest academic libraries in North America. Its collections, which include more than 9 million physical volumes, 1.5 million e-books, and hundreds of thousands of electronic journals, are particularly strong in STEM disciplines, health sciences, international/area studies, book arts and Pacific Northwest history and culture. The Libraries belong to the Orbis Cascade Alliance, a consortium of 38 public and private academic libraries in Washington, Oregon and Idaho. As a member of the Orbis Cascade Alliance, the UW Libraries utilize a consortial implementation of a popular Integrated Library System (ILS).
EBSCO recently launched a new feature to integrate the EBSCONET Journal Renewal Service with Integrated Library Systems (ILS). The feature is available with Alma and FOLIO. EBSCO customers can now configure a fully customizable integration profile and deliver automatic updates to ILS purchase order lines as they renew orders in EBSCONET. The response from customers has been overwhelming. Customers are using terms like "real-time renewals" and sharing the value and efficiencies this new service is offering.
Probably the most important benefit is that all of these updates are possible without requiring a lot of staff time or manual entry.
Director of Acquisitions and Rapid Cataloging Services
University of Washington Libraries
Challenges
According to Siôn Romaine, Director of Acquisitions and Rapid Cataloging Services, the University of Washington Libraries has more than 3,400 subscription orders with EBSCO. Due to staffing restraints, however, librarians have never been able to maintain up-to-date order information in both the ILS and EBSCONET. For example, updated renewal pricing information from EBSCONET was not input in the ILS.
"Many order records in our ILS still had the vendor title number from our previous subscription agent, because we've never had the time to update all of them," Romaine explained. "Consequently, staff frequently had to check both the ILS and EBSCONET to confirm that the order had been renewed, verify the latest renewal price, find the EBSCO order number or determine any cancellation restrictions."
Solution
EBSCO partnered with customers and observed their renewal process from start to finish and was able to identify many integration opportunities. This partnership helped drive the development at UW Libraries.
"With the ILS renewal integration, we are now able to renew orders in EBSCONET and simultaneously update order records in our ILS to show the new subscription renewal date, updated pricing information, as well as cancellation restrictions and renewal notes ― all with just a couple of clicks," Romaine said.
Benefits & Results
The integration of EBSCONET with our ILS has delivered multiple benefits, including ease of setup and customization options. Romaine noted that librarians can now control which order record fields are updated when they use the EBSCONET Renewal Cart to checkout.
"For example," he said, "if we want to send cancellation restrictions for just a subset of orders, we can put those orders in the Renewal Cart, adjust the integration parameters, check the orders out and then adjust the integration parameters again before we check out a different set of orders."
Another benefit is that changes made by the integration are automatically tracked in the Purchase Order Line History tab in the ILS, so librarians can quickly see which changes were made by the integration and when. In addition, librarians can see updated vendor order numbers, accurate pricing information and up-to-date information on cancellation restrictions in their ILS.
"Probably the most important benefit is that all of these updates are possible without requiring a lot of staff time or manual entry," Romaine said. "Prior to the integration, updating our 3,400 order records to accurately reflect the renewal would have taken approximately 225 hours of staff time. Now, we can get that information from EBSCONET to the ILS as part of the time we already spend working the renewal cart. That's a significant time savings!"