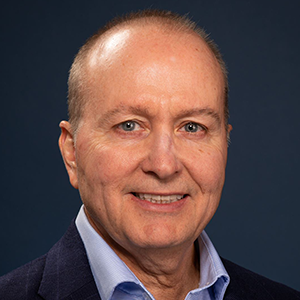 Doug Jenkins
Executive Vice President – Chief Information Officer
Doug Jenkins is EVP CIO for EBSCO Information Services. In this role, he is responsible for all technology management at EIS including software product development teams, information service delivery, platform product management,  information privacy and security, architecture, enterprise systems, and digital transformation initiatives. Since joining EBSCO in 2006, Jenkins has led software development of an EIS suite of products including EBSCOhost, EBSCO Discovery Service, FOLIO, and DynaMed. He championed the company's use of Lean principles and the introduction of Agile software development methods with associated enterprise change management.
Jenkins began his career at GE in 1982 as a member of the Manufacturing Management Program. He held several engineering and Lean operations leadership positions within GE Aircraft Engines including engineering lead for Manufacturing Cell Controller systems and Manager, Factory Automation. Jenkins received the Edward Woll Young Engineer Award and is a graduate of GE's Advanced Course in Manufacturing.
In 1992, Jenkins joined Information Access Company (IAC) as VP Product Technology and led InfoTrac product development. There his team launched SearchBank among other industry-first product introductions. In 1994 IAC was acquired by Thomson and merged with Gale Research to become the Gale Group. Cengage acquired Gale in 2007.
In 1999, Jenkins joined Books24x7, a venture-backed startup focused on creating digital book collections for the corporate market. As CTO, he led engineering innovations on content normalization, XML-based repositories, API-based partner integrations, and search algorithms while participating in the early-stage company's sales, partnerships, and funding efforts. The US patent for this work is cited by over 70 leading companies. In 2001, Skillsoft acquired Books24x7.
Jenkins holds a BS in Electrical Engineering from Rutgers University and ME in Manufacturing Engineering - CAD/CAM Systems from Boston University. He resides in the Boston area.
Interviews with Doug Jenkins