Medford's latest — and greatest — achievement in decades of environmental leadership was achieved last spring, thanks to a grant from EBSCO Solar.
The Charlotte and William Bloomberg Medford Public Library is a bold testament to the city's commitment to having all net-zero energy public buildings by 2050. The library's opening in January of 2022 made it the first public library in Massachusetts to be net-zero, meaning that the library produces more energy than it consumes. It is also carbon neutral: no fossil fuels used, and no carbon emissions produced.
The most significant — and distinctive — element of the library's net-zero design is a unique arrangement of 700 photovoltaic panels on its signature waved roof. Strategically placed "solar gables" generate the building's electricity needs, while large clerestory (above eye-level) windows fill the interior with natural light and increase energy efficiency. These and other eco-friendly features made the library the city's first public building with LEED certification (Silver).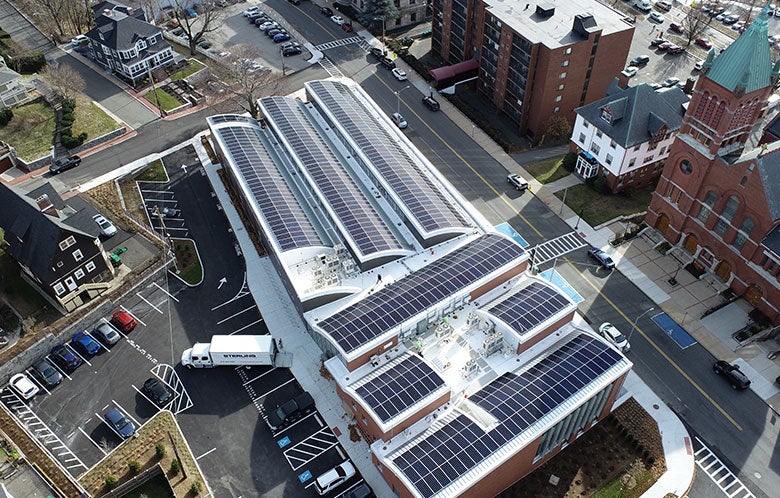 In 2021, the Medford Public Library Foundation launched a "GREEN Campaign," to raise funds to underwrite 100 of the panels in the 700-panel array. The 2021 EBSCO Solar grant funds awarded to the library were used to underwrite 50 of these panels, lifting the "GREEN Campaign" over and above its ambitious goal.
Since its installment and activation in the spring of 2022, the photovoltaic array has saved 417,728.19 lbs. of CO2 emissions. The City of Medford has set up a website so the community and anyone who is interested can track the solar energy produced.
Thank you, EBSCO Solar, for all you do for our environment, and for contributing to the Medford Library Green Campaign . . . and to a cleaner future.