Increase Your Sales Potential
By working with leading publishers, EBSCO makes high-quality content available through its easy-to-use and familiar EBSCOhost platform. EBSCO allows libraries and institutions to build their own collections from a growing selection of best-selling and award-winning titles across a wide range of subject matter and genres. Learn more about EBSCO eBooks & Audiobooks.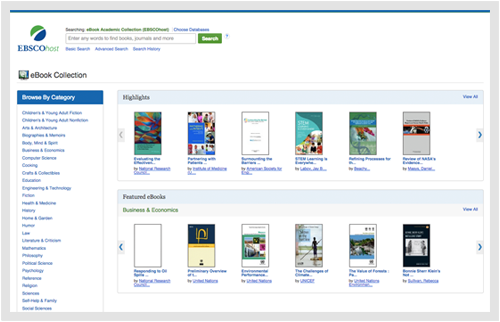 Publisher Benefits
Increase the usage of your titles and maximize your revenue. Let us help you reach new users worldwide. Publisher benefits include:
Unparalleled sales force and market reach
Multiple e-book formats to optimize accessibility
Flexible data submission format options for publishers
Various sales models that increase library purchasing potential
Enhanced services to increase visibility and sales, including EBSCO Discovery Service
Various Distribution Models
EBSCO eBooks & Audiobooks offer multiple distribution models to meet any publisher's needs and expectations. Our models include:
Single-user model
Multi-user model
Subscription Model
Concurrent access model
Consortia pricing model
Patron driven acquisition (with embargo)
Lease (with embargo)
"We certainly know of EBSCO as the premier International Journal Subscription Agent but were less sanguine about their eBook distribution. Consequently, we were both pleasantly surprised and financially satisfied at the speed and efficiency with which our eBooks were integrated in to their distribution network and, the uncomplicated business relationship that we currently enjoy, looks good for the future."
– WIT Press