EBSCO Discovery Service
Connect your patrons to all your library's online resources anytime, anywhere with EBSCO Discovery Service. Through a single search, patrons can discover and access e-books, magazines, full-text articles and everything else your library as to offer, making the most of your investments.  
Connect Patrons to All Your Library Resources
Your library is about more than just books. EBSCO Discovery Service (EDS) is a cost-effective search tool that connects patrons to all of your e-resources, including databases, e-books and magazines through a single search box. EDS enables your patrons to quickly and easily…
Find unbiased facts on today's news
Research health concerns 
Make wiser shopping decisions 
Learn about hobbies and sports 
Know everything about their next travel destination 
Research company information to find jobs 
Repair small engines 
EDS Enhances Research Worldwide
EBSCO is the leading discovery service provider for libraries with thousands of discovery customers worldwide. See what our customers have achieved with EDS. 
Quality Content
Reliable Resources to Enhance Research
Bring together your catalog, databases, e-books, magazines and other digital resources into one interface. With EBSCO Discovery Service, patrons can enter keywords in a single search and see results from several publishers.
EDS delivers search results from multiple database providers, including:
EBSCOhost
Encyclopedia Britannica 
Gale 
Infobase 
Infogroup 
Newsbank 
Oxford University Press 
U.S. Department of Education 
U.S. National Library of Medicine 
WORLD BOOK  
Search Technology
The Most Relevant Search Results
EBSCO Discovery Service has no bias toward content from any provider. Search results are prioritized by: 
Match on subject headings from controlled vocabularies
Match on article titles 
Match on author keywords 
Match on keywords within abstracts 
Match on keywords within full text 
How EDS Ranks Value
Recency/currency — Recently published content is scored higher
Document type — For example, articles are considered more valuable than book reviews 
Document length — Documents of a more substantial length are more valuable
A Search Experience That Users Expect
EBSCO Discovery Service anticipates user intent, providing relevant results when a user searches for a publication name, database name, popular topic or library hours.  
EDS search is further enhanced through autocomplete, autocorrect and superior support for all major languages. 
Authentication & Links to Full Text
OpenAthens: One Login to All Your Resources
OpenAthens is an advanced access management system that eliminates the need for multiple logins. Users sign in only one time to access all your library's resources.  
Google Authentication
EBSCO Discovery Service supports Google Authentication, enabling users to sign in to EBSCO resources and create personal accounts using their Gmail login credentials.
Quick Links to Full Text
Patrons can click directly to the PDF or HTML full text of an article from within the search result list and detail pages, reducing search time.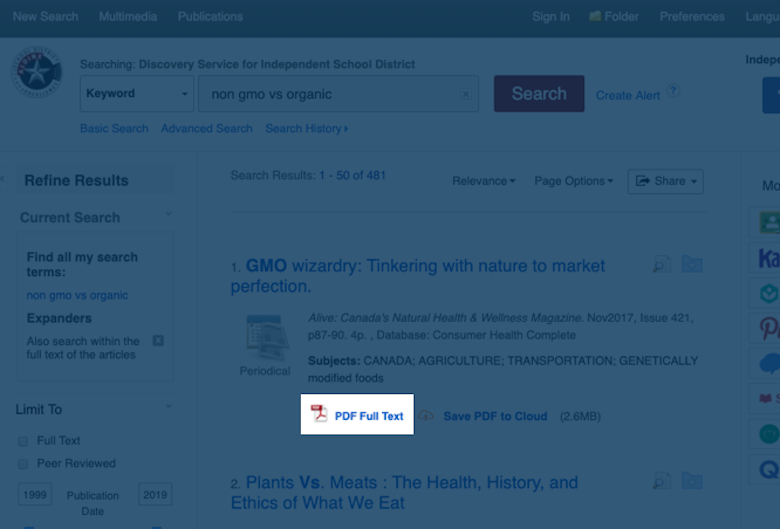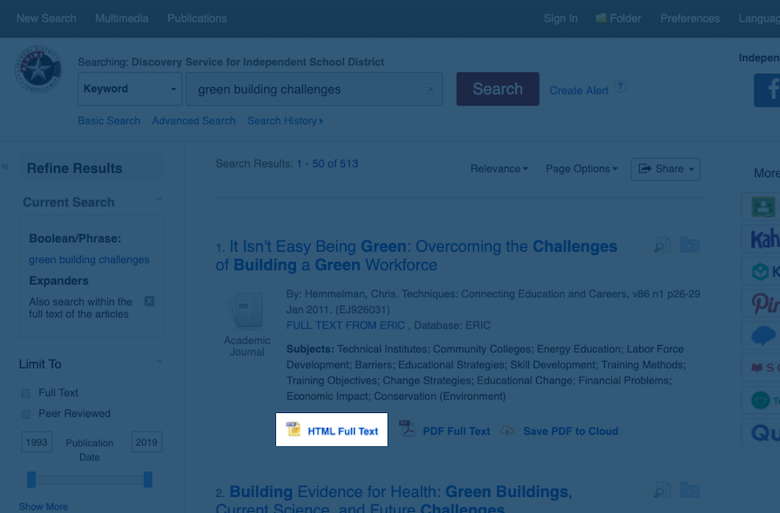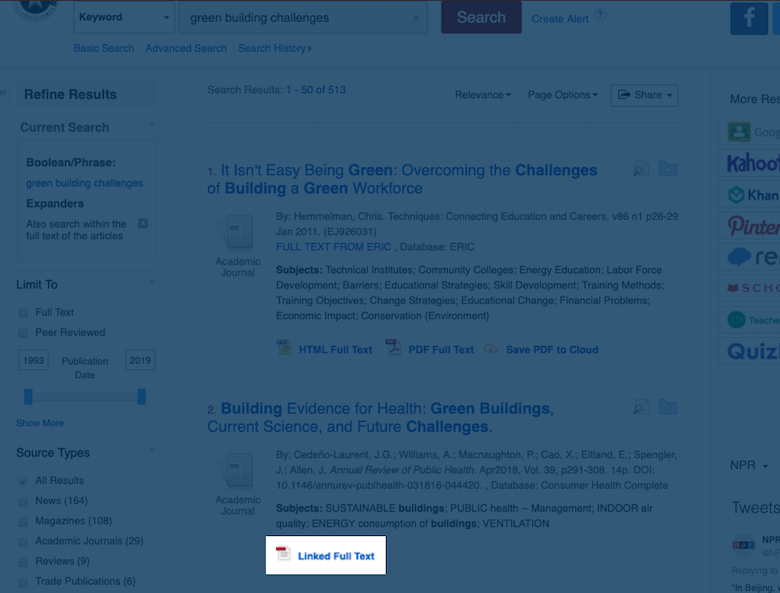 User Experience
Backed by User Research 
Understanding patrons' information needs is the first step to successful research. EBSCO Discovery Service includes features and technology built on research to help users get exactly what they're looking for.
One Interface 
Journals, magazines, newspapers, books, databases and more can all be integrated into the EDS, offering patrons access to all your digital resources, including your catalog, through one search box.  
Predictive Search
EDS provides relevant results when a user searches for a publication name, database name, popular topic or library hours. 
Did-You-Mean, Autocomplete and Autocorrect 
EDS automatically offers suggestions and corrections to users' search terms, decreasing false results and errors.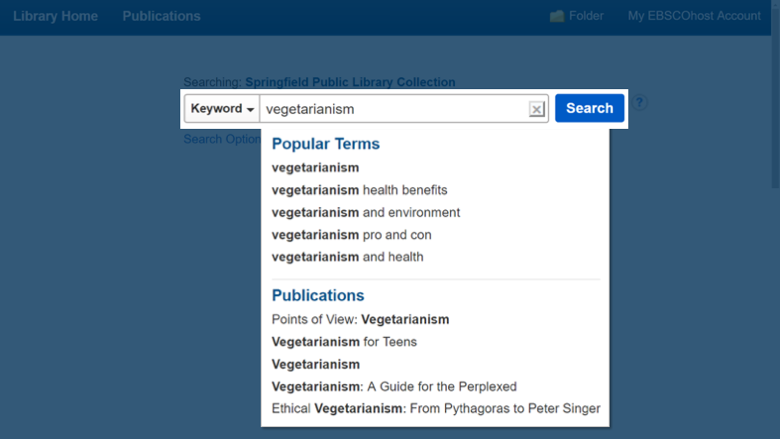 Research Starters 
Research Starters are short encyclopedia-like summaries of more than 70,000 popular topics. They provide patrons with a starting point for research.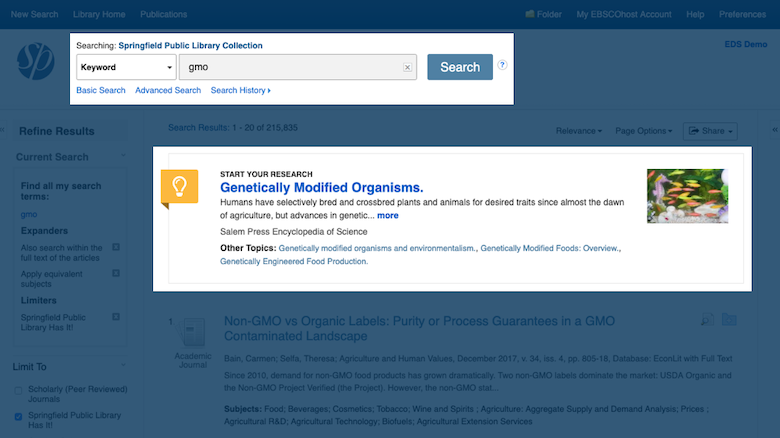 Accessible Features 
EBSCO invests time and resources to provide all users with access to our products, including EBSCO Discovery Service. We work with internationally recognized accessibility experts and incorporate feedback from customers and users.
Integration & Customization
Your Choice of Interface and Functionality
EBSCO Discovery Service integrates with many tools you already use, giving you full control over the research experience. Integration options include:  
Cloud storage of your choice (Google Drive, Dropbox, Microsoft OneDrive) 
Open source front end interfaces, including BiblioCommons and VuFind   
Commercial front end interfaces, including Encore Duet and SirsiDynix Enterprise 
Third-party patron functionality (coming soon) – place holds, renew, see fines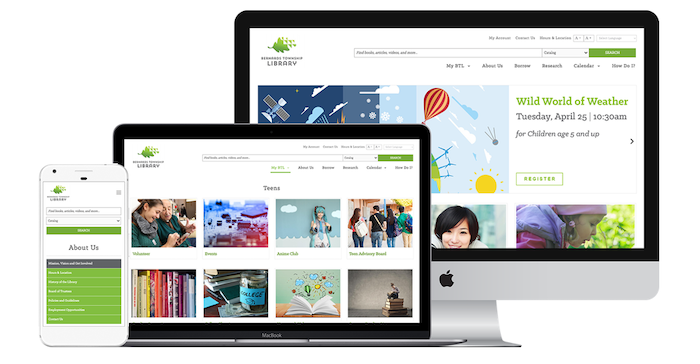 EDS & Stacks: A Complete Website Solution
Stacks is a web-based content management system (CMS) that provides everything you need to create and manage a world-class library website. Stacks integrates with EBSCO Discovery Service, providing a true single-search for all your library's catalog and e-resources.
Tailoring the User Experience
Our experts work with you to design a search experience that's easy-to-use and custom to your library's needs. EDS provides a variety of options for customization, including:
Configurable links
NoveList Select – show similar titles, authors and series right within the results list
Flipster Carousel – display a customized carousel of magazines right on the homepage
Display your library's upcoming events in search results
Feature and link to other areas of your website in search results
Add a summary and book jackets for many publications with Google Book Preview 
Explore EBSCO Apps to customize and enhance the search experience.
Expertise & Support
Committed to Your Success
When you work with EBSCO, you're working with a skilled service staff that includes highly-qualified technical field service engineers and training specialists. Our training specialists are library educators who provide online and onsite training on a variety of topics and features.  
Tutorials, user guides and other support material are always available on-demand on EBSCO Connect.